+ results are available for . You have access to limited results with random sort. Get Full Access
The T-shirt niches tool will help you identify the best-selling t-shirt niches. So you can make more sales and rank higher.
We monitor the major marketplaces like Merch by Amazon, Etsy, and Redbubble. And by analyzing data, we figure out the best-selling designs and niches sooner than anybody else.
Step 1: Explore POD niches to find a profitable niche
The T-shirt niche list has a complete list of the most popular niches trending right now.
You can explore them one by one to find a low-competition and high-in-demand product.
You can either focus on seasonal trends like Halloween and Christmas or evergreen niches like Family shirts, different jobs, couple matching shirts, etc.
If you are going to focus on seasonal trends, please bear in mind that it takes around a month to get ranked organically on Etsy and Redbubble.
Step 2: Profitability Check: Take a look at the best-selling product in the niche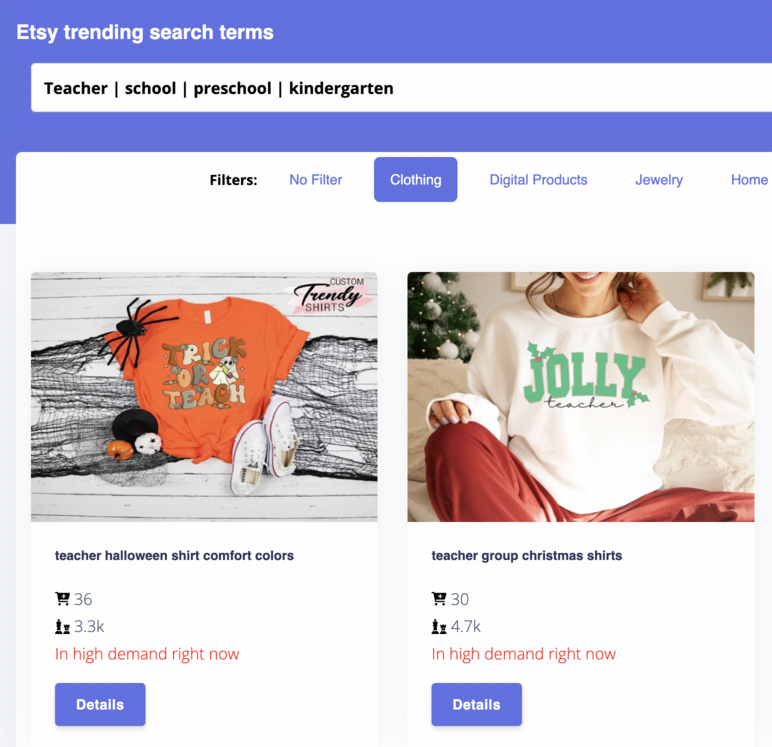 When you click on a niche, you will see the complete list of sub-niches. Sub-niches are keywords that people are searching for a specific kind of product in one niche. For example, Halloween is a niche, and the teacher's Halloween shirt is a sub-niche. You should always focus on sub-niches with low competition and high search volume. But how could you find out the competition and sales metrics?
Step 3: Focus on high-demand and low-competition niches for print on demand
When you click on the Details button in step 2, you will be taken to Insightfactory Keyword Research Tool.
On this page you can easily spot:
Keyword competition in different regions (United states, United kingdom, Germany, Australia, and Canada).
Sales signal. How many listings on the first page Have sales at least once during the past 7 days?
7-Day sales amount for any listing on the first page.
Tags (you can use these tags to get your listing to the top of the search results). Learn more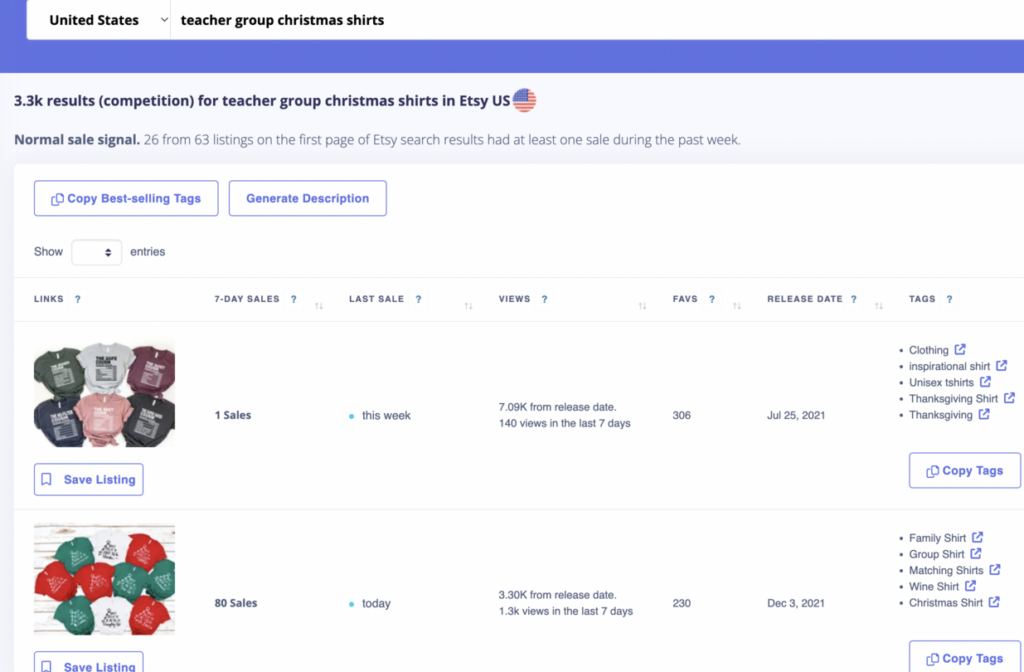 Step 4: Drive more traffic to your listings by choosing best-selling tags and titles
The Etsy Tag Generator tool helps you bring more traffic and sales for your shops. As you can see in step 3, there is a Copy best-selling tags button on top of the page. By clicking on this button, you get the best tags for a specific niche.
After that, you need to generate a description containing these keywords. By clicking on Generate description, you will get access to the AI written description that could persuade your shop customers to purchase.
It's better to copy best-selling tags that are selected based on their efficiency and sales potential.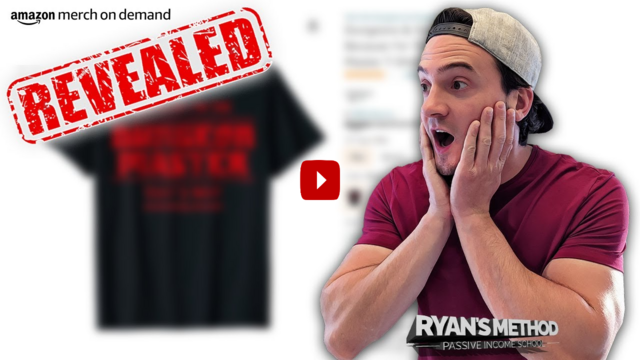 FAQ
How to Identify Top-selling T-shirt Niches?
In step 3, you need to focus on niches with the competition with less than 10K results. And also hot sales signal.
Always explore keywords related to your niche, your chance of getting seen increases if you focus on a keyword targeted to the same audience but with less competition.
How to Find Best-selling T-shirt Design Ideas?
Instead of guessing, focus on what is already getting traction in the marketplace. Click on the details button for the keyword that you think is potential. And analyze the listing's thumbnails and design style. Always double-check thumbnails with 7-Day sales. And only study ideas with many recent sales. Remember you are producing the product for your customers. So the customer is more important than personal taste.
How to use this T-shirt spy tool and get the most out of profitable T-Shirt niches with low competition list
We list more than 2,500 low competition and profitable T-Shirt niches for print on demand in 2021. In our T-shirt spy tool, you can see t-shirt niche, competition, and typical monthly sales. In our free version, you have access to limited T-Shirt niches with medium competition every day.
In our premium version, you access +2,500 untapped and profitable shirt niches with low competition every day. The niches in our premium plan are exclusive for our pro members. They will not be shared with our free users.

Column Explainations
Search Volume
Monthly search volume in the united states.
Market Activeness
How many listings in the first 2 pages of Etsy search results, sold at least one item during the last week. 100% Market Activeness means that all items in the first 2 page of search result sold at least 1 item during the last week. 5% Market Activeness means only 5 of the items in the first 2 pages sold at least 1 item.
How do you get market activeness score and competition?
Competition is the number of listings available for a niche. If it's more than 5000 listings, and you've just started out, your chance of getting to the top of the listing is low.
Market Activeness: Insightfactory monitors the marketplace every day and tracks every change in the market if a niche has an activeness score of 100, it means all of the first 100 listings, sold at least one item during the last week. So the market is scorching, if the score is 0, it means none of the listings sold anything during the last week.
POD T-Shirt niche list is updated every day.
Every day we look at the T-Shirt sale data and update our print on demand niche research tool. Check this page everyday.
What is the difference between T-Shirt niches in the premium vs free plan?
We share limited niches with the medium competition with our free users. Every day you get a limited set of profitable t-shirt niches, but in the premium version, we share an exclusive 2,500 low competition niches.
How to select the T-Shirt niche that works for me?
Take a look at the niches daily, and try to come up with designs, and use our Etsy tags tool to generate tags for your design.
If you just started, and have less than 1000 sold items on Etsy, our advice is to focus on low competition niches, niches with less than 2,000 competition, and ideally less than 500 items.
Profitable T-Shirt niche ideas in 2022
To evaluate your t-shirt niche idea get an eye on market activeness, and competition. Ideally, you are looking for a T-Shirt niche with low competition and high market activeness.

Are these T-Shirt niches for a specific platform?
Although we have a specific tool for Redbubble niches and another tool for Etsy Trends Tool to identify what to sell on Etsy to make profit. You can use the low competition niches on the platform of your choice, Merch by Amazon, Etsy, Redbubble, Teespring you name it. We advise using as many platforms as possible, each platform could bring sales to your T-Shirt designs, especially if you generate tags for your listings.
How to find untapped and profitable niches for POD?
Insightfactory is a print on demand niche research tool that explores popular marketplaces like Etsy, Amazon, and Redbubble to find print-on-demand niches and extract untapped and profitable niches.
Search inside the table to filter low competition niches based on your style.
How to find the best print on-demand niches in 2022?
The best t-shirt niche for print on demand is the one that you can make many designs for it, and it's evergreen. Check this list regularly, and look for underserved niches. Don't forget to check out the best print on demand niches for hoodies, socks, and phone cases.
What Is a T-Shirt Niche?
A niche is very much like a subcategory of an industry or category. For example, if we were to bring up the category of clothing, we would then have to look at subcategories such as men's clothing and women's clothing. Each of these subcategories would then have more subcategories underneath them. For example, we might see categories such as shirts, hoodies, and jackets underneath men's clothing. Each of these categories would then have more specific niches within those categories. For example, under the category jackets, we might see bomber jackets or leather jackets.
Niche markets are usually quite small in comparison to larger markets to focus on. 
Is Selling T-shirts Online Profitable?
Definitely yes, selling t-shirts online is highly profitable. It's not a get-rich-quick scheme, but with time and effort, it can be a very lucrative business.
It's not hard to see why selling t-shirts are so popular. They are a universal item of clothing that people will always buy, and you can make money out of selling them by having an eye for design and spotting trends.
Creative t-shirt design ideas are always in demand, and people love them. So if you have a creative mind, here is how you can make money out of it.
Print on demand t-shirts is a $4.5B business in 2020. And it's gonna grow to $8.5B in 2029. So not only it's profitable, but also it's growing fast.
T-shirt is one of the best things to sell on Etsy in 2022.
Profitable T-Shirt Niches That Will Make You Tons Of Money
Profitable T-shirt niches are T-shirt design ideas that you can sell many of them. We all know that T-shirts are one of the most popular clothing items that have ever been sold in the world. This is one of those items that transcend time and fashion, and it's a piece that almost everyone wears. You can find them in every color, pattern, size, and style which makes them a staple item in the majority of closets. Because this type of shirt is such a basic necessity, many people will choose to purchase multiple ones throughout their lifetime. As an online entrepreneur, you should take advantage of this trend by selling t-shirts on your Etsy shop or other online stores.
Examples of Profitable T-shirt Niches
A very good idea for profitable T-shirt niches is to find a top-selling T-shirt idea and think of how you can sell more than one item, like matching shirts.

For example, if you found a creative t-shirt design idea for mother's day, try to make another design for the other members of the family. This way the chances of selling more than one T-shirt will be higher. Also, many people are looking for matching shirts and when you have them in your shop, they are more likely to buy from you.