Print on Demand Research Tools
results are available for .
But you only have access to limited search results. Upgrade to Pro to get full access.
Limitations on free version:
Limited search results. Pro users get unlimited access to search results.
No access to low competition niches.
No access to hot niches.
No access to sales data.
Sorting is not available.
Get Full Access
Creating and selling printables and other digital downloads on Etsy is the best way to build online income assets to earn that extra $100, $1000, or even $10,000 every month.
However, Etsy is so competitive now as thousands of Etsy sellers in almost every main niche exist. So, if you want to make Etsy work for you, you need a game plan.
This game plan revolves around finding the right products to sell on the platform. Unfortunately, this isn't as easy as it sounds since there are so many Etsy sellers in different niches.
As a new seller, you only have few shots in establishing your brand. So entering the right niche is critical if you want to have those first sales coming in faster.
Why Sell Printables on Etsy
Etsy is a destination for both physical crafts and digital products such as planners, fashion patterns, etc. Printables are the go-to types for most online sellers since these products are easier to make and do not cost much upfront to get started.
Some other advantages of selling printables and digital products on Etsy are:
Printables fall under the Digital Goods category meaning you only have to create them once and keep selling them over and over again!
You can start selling printables without investing money upfront means that as long as you have creative ideas and can design your printables to meet the needs of your prospects, you can start a printable business.
Most of the design tools you need to create custom printable designs are available cheaply or even for free. So you don't need to invest in super-expensive software.
How to Establish a Brand on Etsy Relatively Fast as a New Seller
Establishing your brand on Etsy as a new seller shouldn't be hard if you know what you're doing. It's a common mistake for new Printable sellers to start with general and highly competitive niches such as clip arts or planners.
While you may make a sale or two, most buyers here are more likely to go for brands that have hundreds of sales and dozens of 5-star ratings and raving reviews.
Thus to succeed as a new printable seller on Etsy, you need to focus on niches that:
Have low-medium search volume
Have low competition
Do not have dominant sellers.
How to Find Best-selling Printables on Etsy
Let's see how you can discover best-selling digital downloads that you can use to get inspired for your Etsy store.
Step 1: Brainstorm General Printable Ideas
The good news is that, with our Etsy Spy Tool, you don't even need to have a rough idea of what you want to sell. Just spend 5 minutes going through what is trending and note down what interests you.
To do that, go to Etsy Best-selling Printables collections to explore all the Etsy trending products that our tool has compiled. These products are updated daily, and the products rankings and sales metrics are up-to-date.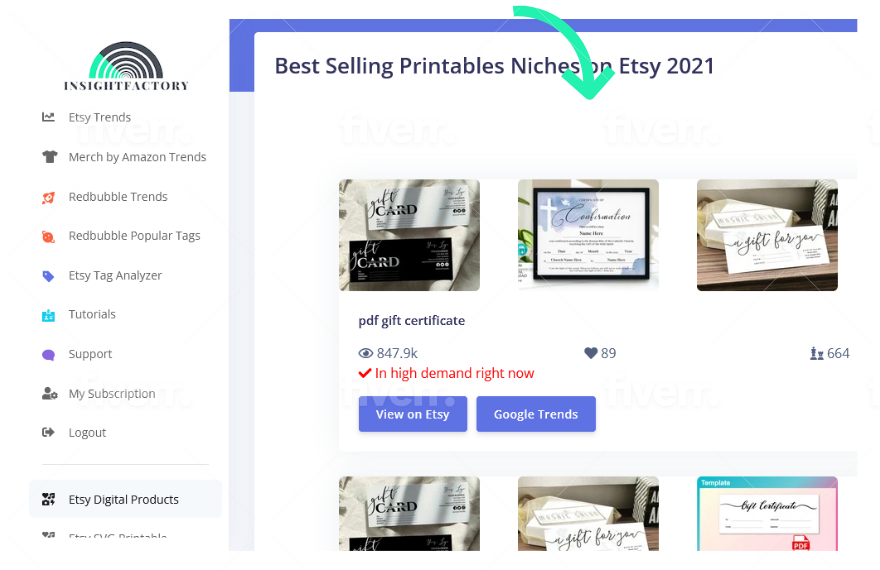 Here you'll see thousands of downloadable products that you can sort according to:
Niche Potential (default),
Views: How trending are these products on Etsy,
Competition: Number of products listed in these topics,
New Favourites: What people love right now.
You can click on each item individually to go directly to its listing page on Etsy.
Step 2: Select 3 Evergreen Topics That You Can Easily Create Printables on
After going through all the recommendations, settle down on three sub-niches that meet the parameters mentioned before. (low competition, medium views, and fewer listings.)
To help you out, when you upgrade your account, you'll be able to get sales stats and have unlimited access to all the sub-niches.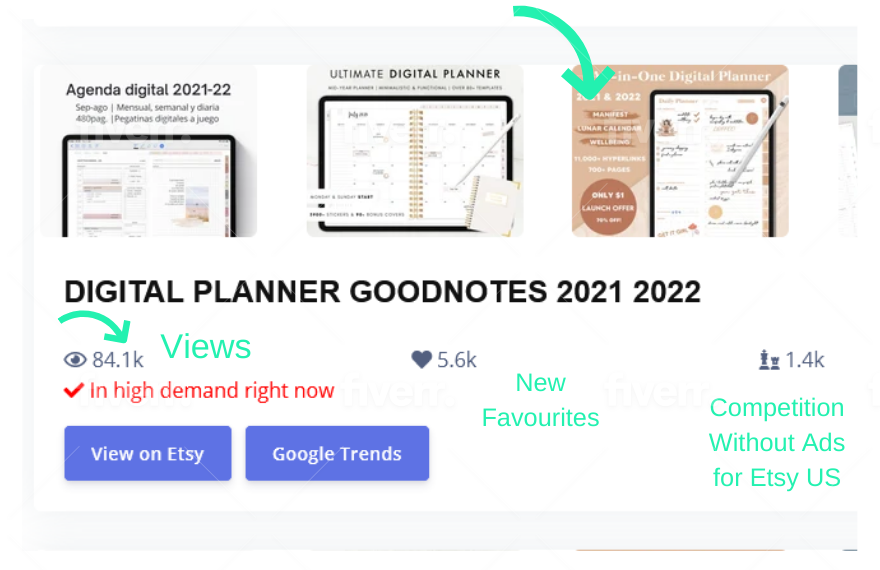 Beneath each topic, there are two blue buttons. Click on the View on Etsy button to see the sub-niche or topic page on Etsy.
The second button, Google Trends, opens up a popup where you'll be able to see the particular trend topic over time on Google Trends.
It is critical because you want to ensure that you are not planning to create a product on a topic that has been rapidly declining over the years.
Step 3: Find More Best Selling Printables Ideas Using Tag Analyzer
The last thing you want to do is to navigate to the Etsy Tag Analyzer. This handy tool helps you determine what particular keywords will help your listing rank on Etsy.
There are different approaches to this, but a simple one is simply entering your target market into the search bar. For instance, let's say you've settled for digital printables for homeschooling. Then, to get ideas on what else you could create or which keywords to target, search for the keyword homeschooling in the search box, and the Etsy Tag Analyzer will suggest hundreds of potential keywords to target.
These keywords alone can give you new product ideas that you did not even think of, use some of these keywords to add new product lines and some in the product listing descriptions. Check out our suggestions to craft a more compelling and detailed listing description targeting homeschooling moms as they are a group that better represents our buyer persona.
7 Examples of Best Selling Printables on Etsy
Some of the printables that tend to do well on Etsy include:
Planners
People love planners as they help them get organized and remember important dates and things in their lives. Some trending planners include calendar planners, meal planners, financial planners, project planners, etc.
Customizable Templates
Templates are often used by non-designers in creating custom designs and even digital products. All they have to do is to swap out text and images with their own. You can create templates for eBook interior design, lead magnets, Canva, InDesign, Book covers, etc.
Crotchet, Sewing, and Knitting Patterns
People who knit, crochet, or sew buy patterns from Etsy to use them in their fashion DIY projects. They are therefore suitable for individuals who are into crafts and fashion design.
Worksheets
Worksheets are great for teachers, stay-at-home parents, and homeschoolers. They can use these worksheets with their kids in teaching them new concepts and ideas. Common worksheet topics include coloring sheets, math worksheets, preschool worksheets, worksheets for kids, language arts printables, etc.
Trackers
These templates are great for individuals who want to track their daily tasks and activities. Some popular templates include food calorie counter, workout tracker, weight loss tracker, shopping list maker, work schedule, etc.
Wall Art
A wide range of wall decors is created using DIY printables, from nursery prints, inspirational quotes, framed quotes to digital arts. People love to print and frame their own wall arts as this not only saves time and money on the cost of art purchase but also gives them flexibility on the frames, materials, and type of prints.
Clip arts
Clip Art is an image or illustration copied to a pattern, on canvas, or in other backgrounds. You can make downloadable clip arts for different purposes and sell them as collections. For instance, on Etsy, you can find best-selling clip arts on themes such as Haloween, Kawaii as well as seasons such as Winter. Other clip arts include animal-inspired, leaves-inspired, watercolor school clip arts, etc.
Using Insightfactory's Etsy Spy Tool you can unravel specific printables that are hot and trending. Read on to see how.
Get Started Now
To start doing your Etsy product research in a few minutes, upgrade your account here to have instant access to thousands of trending product ideas that you can leverage right away.
There's another product category that is trending on Etsy called SVG printables. Find best-selling SVG printable niches on Etsy here.
Trusted by the PROs