[Video Tutorial] InsightFactory Masterclass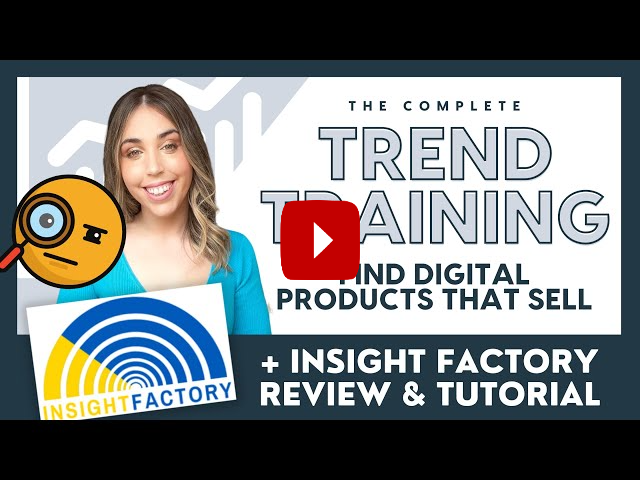 ---


How to make your first $100 on Etsy
In this video, Jessa is going to teach you how to get your first $100 on Etsy by focusing on the right products.
Jessia is a great Etsy coach and she loves helping others grow.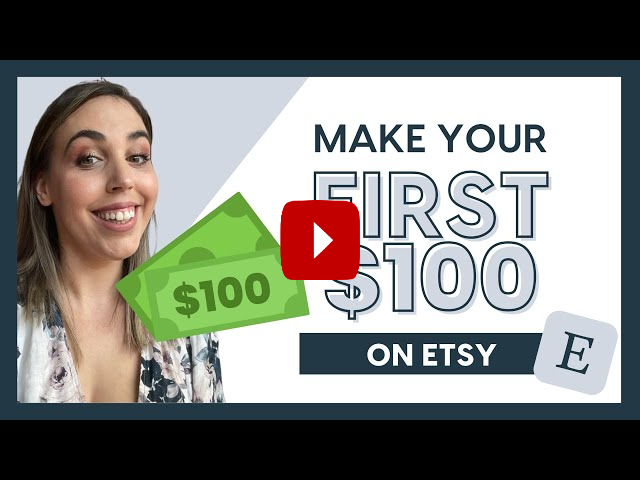 ---
How to find what is popular products on Etsy right now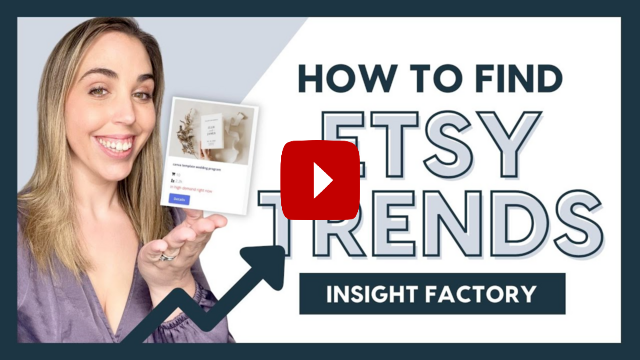 From 0 to 1300 sales in less than two months focusing on Etsy trends
Jessa has experimented with Insightfactory. She start a brand new shop 2 months ago. And in her new shop, she only creates products based on Insightfactory current trends. At the time of writing this paragraph, she made more than 1300 sales in her new store focusing on the right trends.

---
Find popular products on Etsy step by step
Step 1: Explore Etsy trends to find a profitable niche.
Etsy trending search terms have a complete list of the most popular niches trending right now.
You can explore them one by one to find a low-competition and high-in-demand product.
You can either focus on seasonal trends like Halloween and Christmas or evergreen niches like Family shirts, different jobs, couple matching, etc.
If you are going to focus on seasonal trends, please bear in mind that it takes about a month to get ranked organically on Etsy and Redbubble.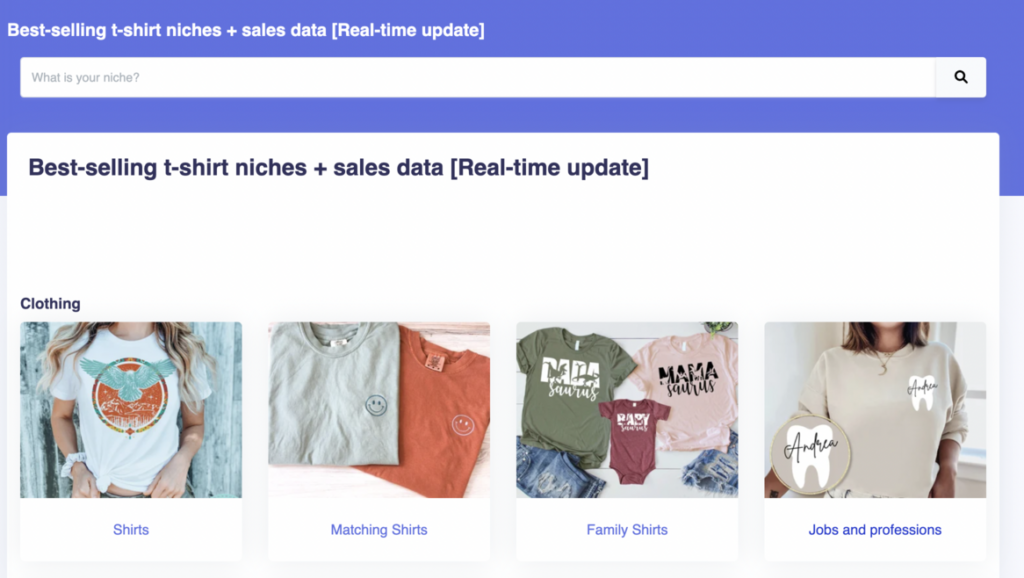 ---
Step 2: Profitability Check: Take a look at the best-selling product for the niche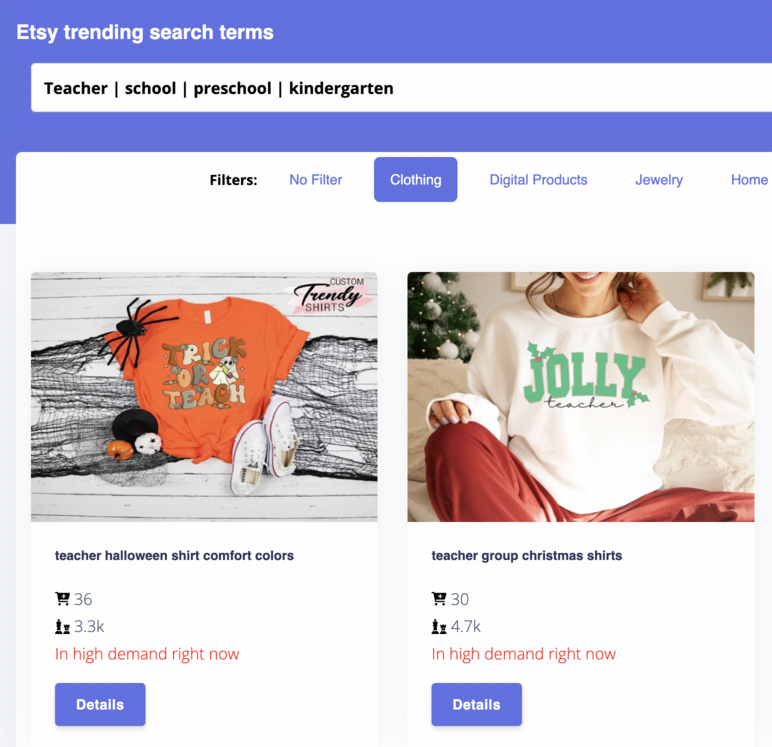 When you click on a niche, you will see the complete list of sub-niches. Sub-niches are keywords that people are searching for a specific kind of product in one niche. For example, Halloween is a niche, and the teacher's Halloween shirt is a sub-niche. You should always focus on sub-niches with low competition and high search volume. But how could you find out the competition and sales metrics?
---
Step 3: Explore high-demand and low-competition niches
When you click on the Details button in step 2, you will be taken to Insightfactory Keyword Research Tool.
On this page you can easily spot:
Keyword competition in different regions (United states, United kingdom, Germany, Australia, and Canada).
Sales signal. How many listings on the first page Have sales at least once during the past 7 days?
7-Day sales amount for any listing on the first page.
Tags (you can use these tags to get your listing to the top of the search results). Learn more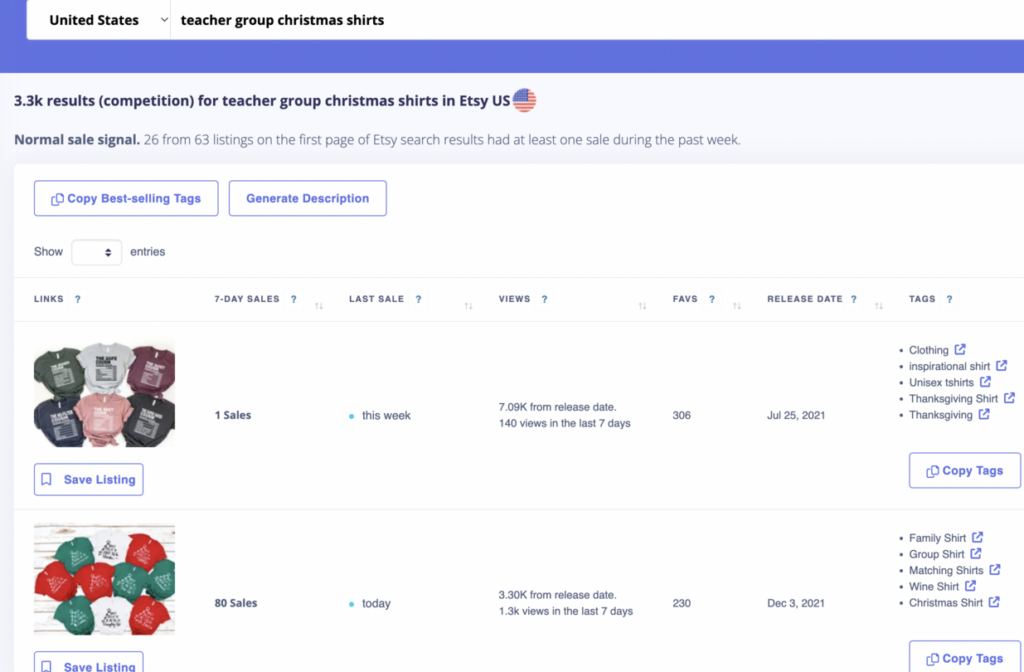 ---
Step 4: Find related low-competition search terms with high sales potential
To escape the competition find a three or four-word keyword that customers search on Etsy to find products like yours. Search for a general keyword on the Insightfactory keyword research tool.

As you can see in the image, "digital art print" has more than 4M results on Etsy and it could be really hard to rank on the first page for this keyword. You need to find a similar keyword with low competition. Click on view related keyword ideas.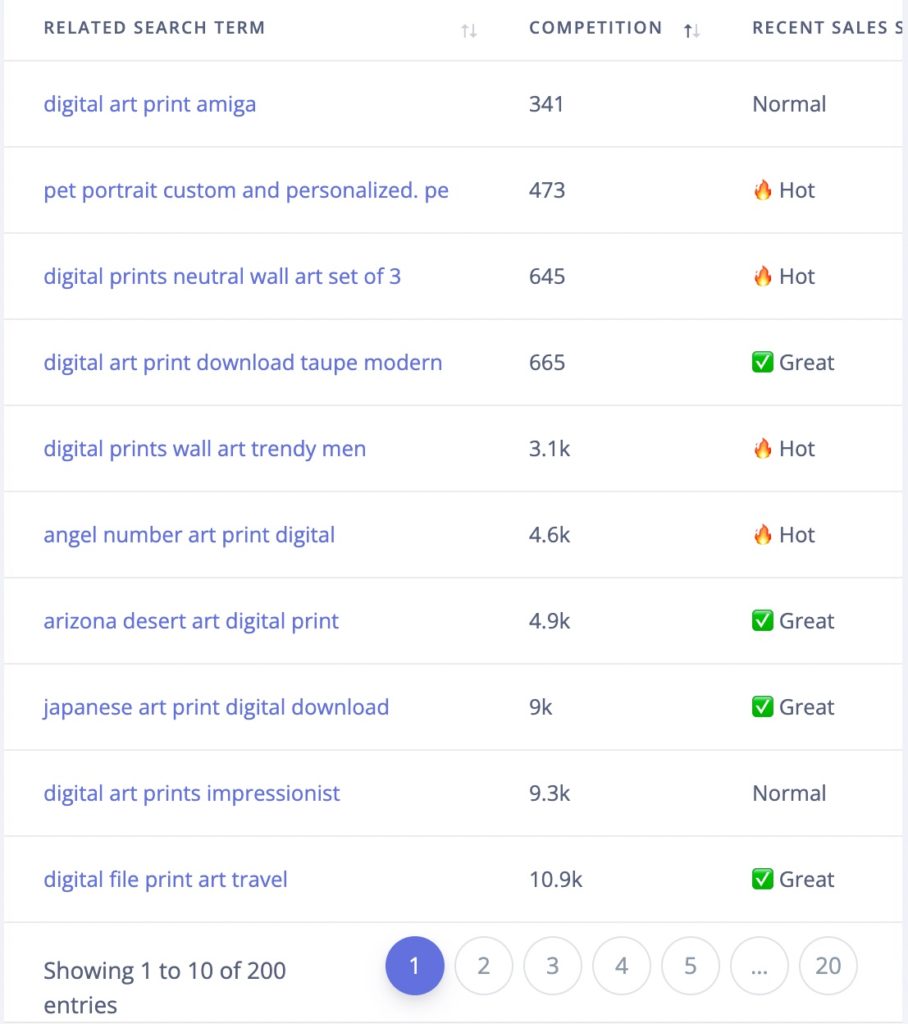 Find a low-competition keyword in the related search terms table that describes your listing. For example "Japanese art print digital download" has low competition (12K items compare to 4M listings for digital art print) and its sales signal is Hot. Click on your selected keyword in this table to view best-selling tags and keywords.
---
Next Step: Drive more traffic to your listings by choosing best-selling tags and titles
The Etsy Tag Generator tool helps you bring more traffic and sales for your shops. As you can see in step 3, there is a Copy best-selling tags button on top of the page. By clicking on this button, you get the best tags for a specific niche.
After that, you need to generate a description containing these keywords. By clicking on Generate description, you will get access to the AI written description that could persuade your shop customers to purchase.
Insightfactory gets all the necessary information about your search results from Etsy in a couple of seconds. Our data is live. So you can follow the latest trends.
---

Insightfactory Framework for product research
You can find popular products on Etsy and validate their profitability with the Insightfactory Method.
The insightfactory method is a secret method that top sellers use to validate a niche on Etsy in 30 minutes.
For identifying what sells on Etsy. Search for your keyword on the Keyword tool and ask yourself:
How old are the listings on the first page?
How often do they make a sale? (Is it something people are buying right now?)
Are there many listings without any sales on the search results?
Can you see a trend between the new listings?
You can answer these questions by accessing hidden information about listings on the search results.
Insightfactory Etsy Product Research Tool reveals this hidden information.
You should find the answer and score between 0 to 3 to the questions.
Here is the step-by-step process to answering these questions fast and reliably.
1) How Old Are The Listings On The First Page?
If most of the listings on the first page are older than six months, chances for your listing to get to the first page are low.
Focus on keywords with new listings on the first page.

Insightfactory default sort is search position. It shows listings exactly like Etsy.

Sort the search results by clicking on the "Listing Age" column.
The " Listing Age " column shows the number of days the listing is on Etsy.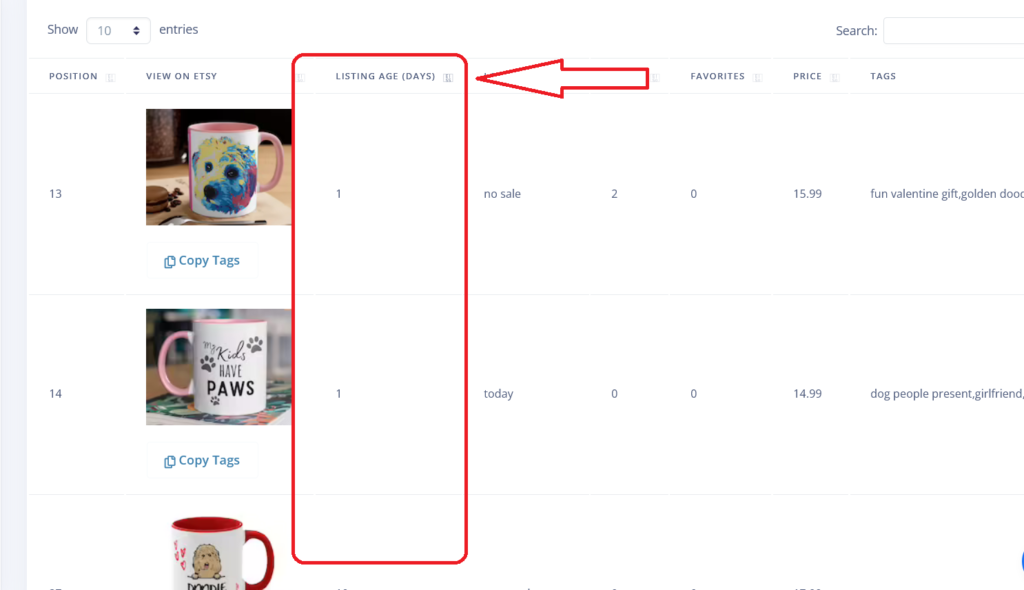 How Many New Listings Do You See?
Nothing = Move on ASAP.
A couple of new listings = Potential, Follow the next steps.
Most listings are new = It's a trending keyword!!

How Often do They Make A Sale?
You want to select an Etsy niche with regular sales.
The "Last Sale" column shows the number of days since someone bought the listing.
Today: Perfect
10 days: Not so good
How many listings sold something today?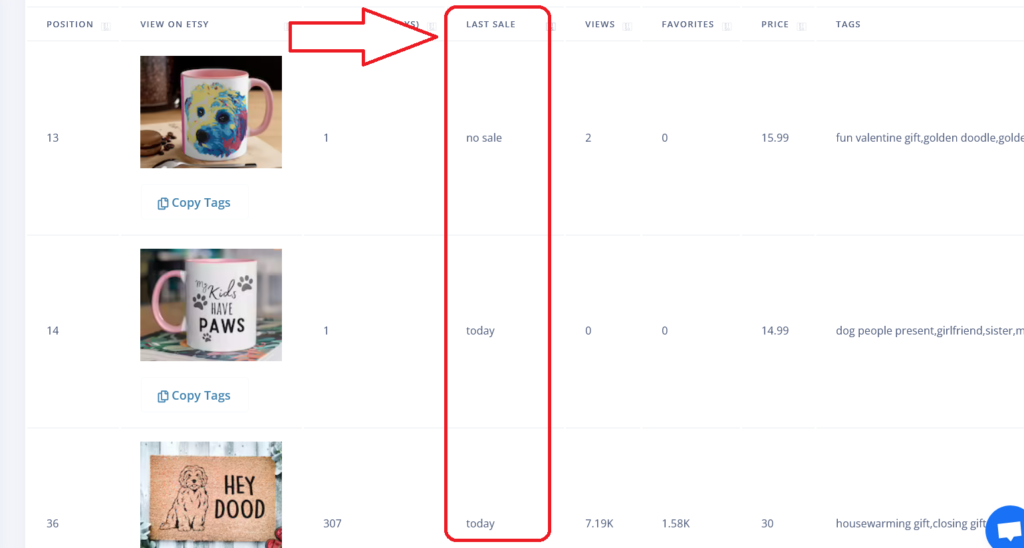 How to decide if it is a good niche?
If you see many listings with sales in the last 7 days: The keyword has great potential. People are searching for it right now.
Many listings with the last sale of more than 30 days: It's not an active keyword. No one is buying something right now.

Are There Many Listings Without Sales On The Search Results?

If you see lots of listing in the search result without a sale, it means this keyword is not good. Move on.
If only a few items have no sale, it means the keyword is low competition.

How Can I Generate Tags For My Etsy Listing?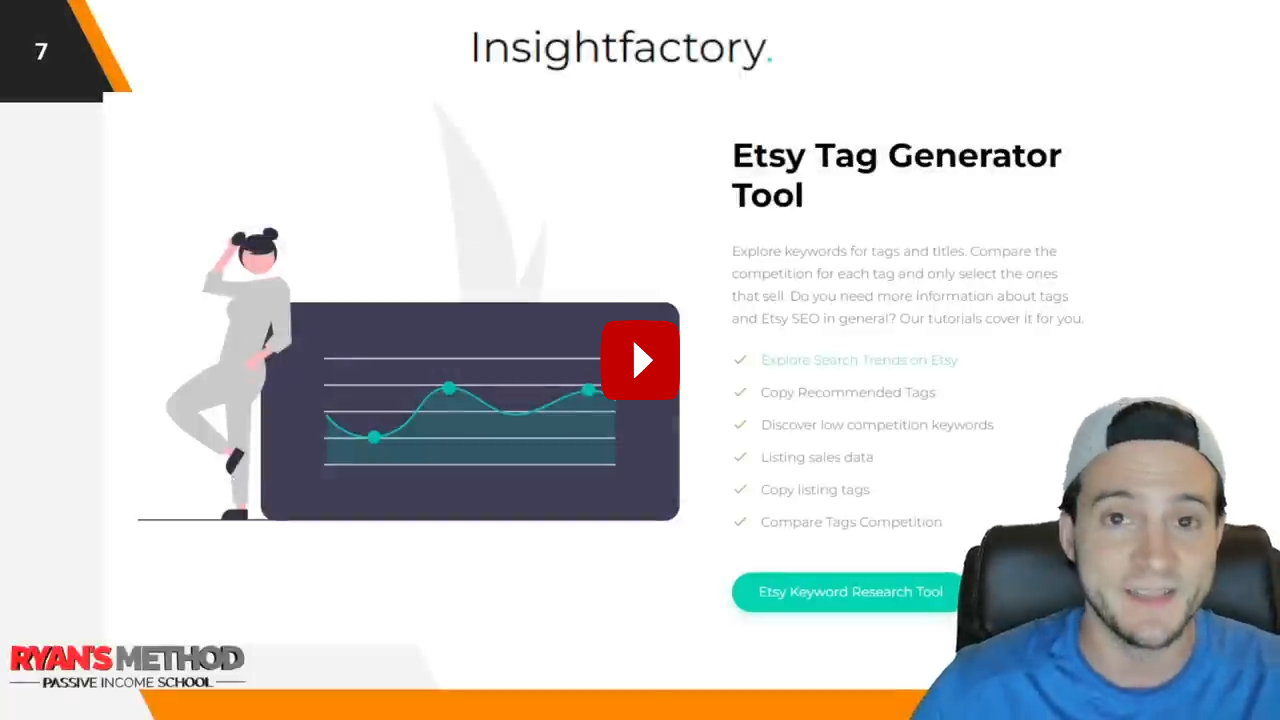 Go to Etsy Keyword Research for generating tags and search for your main keyword.
For example, you sell mugs and you heard about the dog breed called Golden Doodle, so start by searching Golden doodle.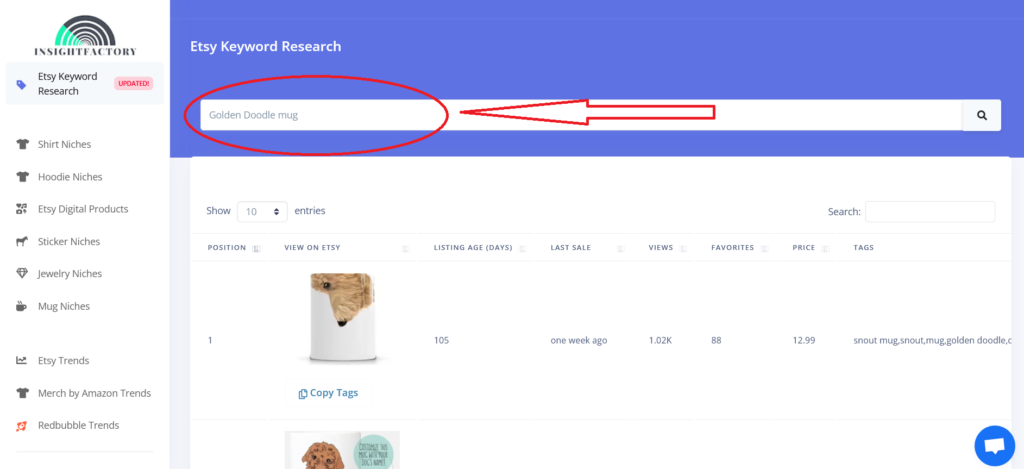 Copy Recommended Tags
Scroll to the bottom of the page to the "Popular Tags" table.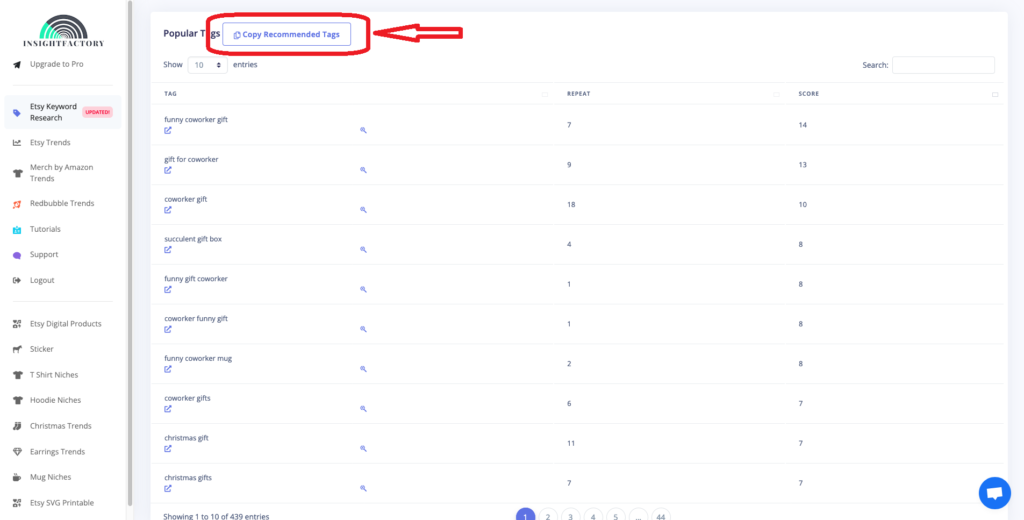 Click on "Copy Recommended Tags" to copy 13 Best tags automatically.
Recommended tags contain the 13 most frequent tags for your keyword. These tags get a high score based on Etsy SEO best practices.
Copy Tags Of A Listing
By clicking on the "Copy Tags" button, the listing tags will be copied.
You can copy and paste them on your Etsy listing.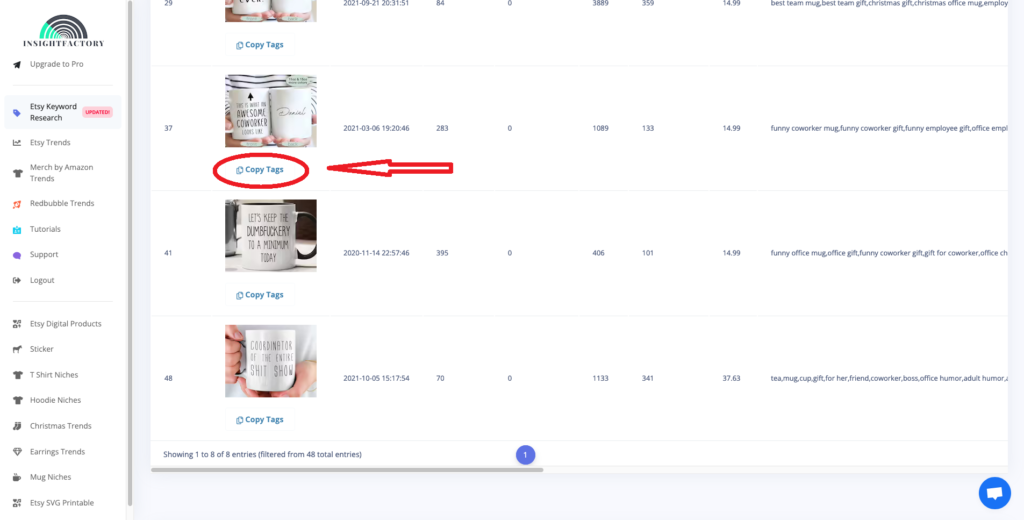 ---
How Can I Validate My Listing Potential In A Week?
Many sellers rely on Etsy SEO for their traffic. Although SEO could bring you traffic for free, it takes time to rank on the first two pages. Which means you have to wait for a long time.
Etsy shows the best items on the first two pages. So you need to make sure your listing is one of the best.
For being one of the bests, you need to optimize your tags, price, product photos, and shipping setting.

Requirements:
$20 Etsy Ads Budget. Not sure if your listing is worth it? Invest more time on Etsy product research here.
10 minutes every day for the next week. You will use this time for listing optimization.

We suggest using Etsy Ads for the first couple of days to validate your listing potential fast. By using Etsy Ads you can validate:

Title and Tags:

The ad will show you what people are searching for right now.
You can access it under the Etsy Ads section on your shop manager.
If you don't get enough impressions after 3 days, then your title and tags are not good enough. Go to How to generate tags for my listings.
Do you have enough impressions? Super! Go to the next step.

Product Main Photo
Is it good enough to make people click on it?

Is it good enough to make people click on it?
If you have lots of impressions but a low click rate, (less than 0.5% is really bad), it means your product picture is not good enough.
Try with another one.
Price
If you get clicks but do not get sales, there is something wrong. And the first place you should look is the price.
Is It Something People Want?
If you get enough impressions and clicks but no sales, it means it is not something people want. Maybe the design is not good enough, or the price is not reasonable.
If the ad doesn't bring you sales in a week of optimization, turn it off. Turn off listing auto-renew too. And move-on. Do your product research again. And find what is selling on Etsy right now. Then repeat the process until you find the one.
The goal is to validate the listing as fast as possible. Etsy Ads gives you this opportunity to validate your listings fast.
For most new Etsy sellers, the first couple of listings is not good enough. So don't get disappointed. You are learning how to build a great shop one step at a time.
How to Cancel an Automatic Billing Agreement on PayPal?
Log into your PayPal account with your normal credentials
Near the top of the page, you will find the "Settings" tab. Click it.
In your settings, click "payments".
Under "payments", you'll find "manage pre-approved payments". This is where you'll find recurring and scheduled payments. So if a rogue amount of money seems to disappear from your account, you may find the culprit here. You may have an unwanted subscription or scheduled payment you forgot about.
Find the payment you want to cancel. Next to the payment, you can see the cancel subscription button. It could be a simple "cancel" button or "cancel automatic billing".
Follow the instructions to confirm your canceled subscription.