How Can I Generate Tags For My Etsy Listing?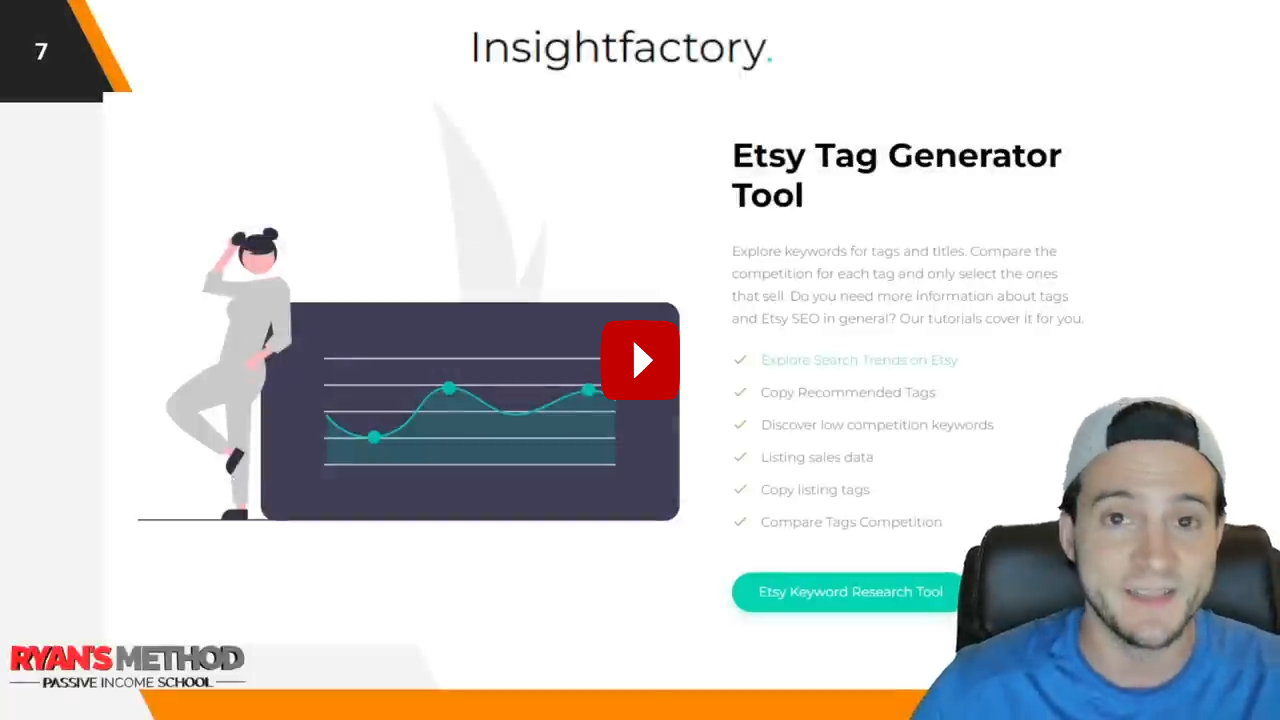 Go to Etsy Keyword Research for generating tags and search for your main keyword.
For example, you sell mugs and you heard about the dog breed called Golden Doodle, so start with searching Golden doodle.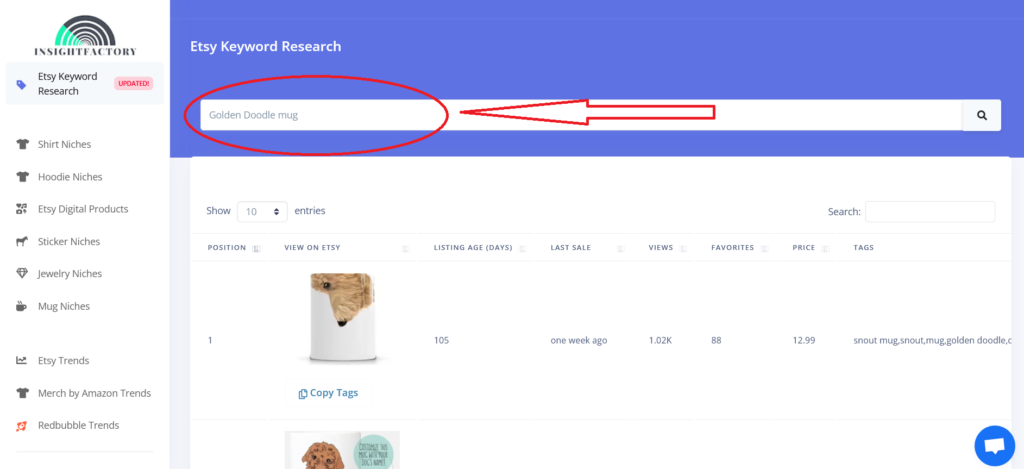 Copy Recommended Tags
Scroll to the bottom of the page to the "Popular Tags" table.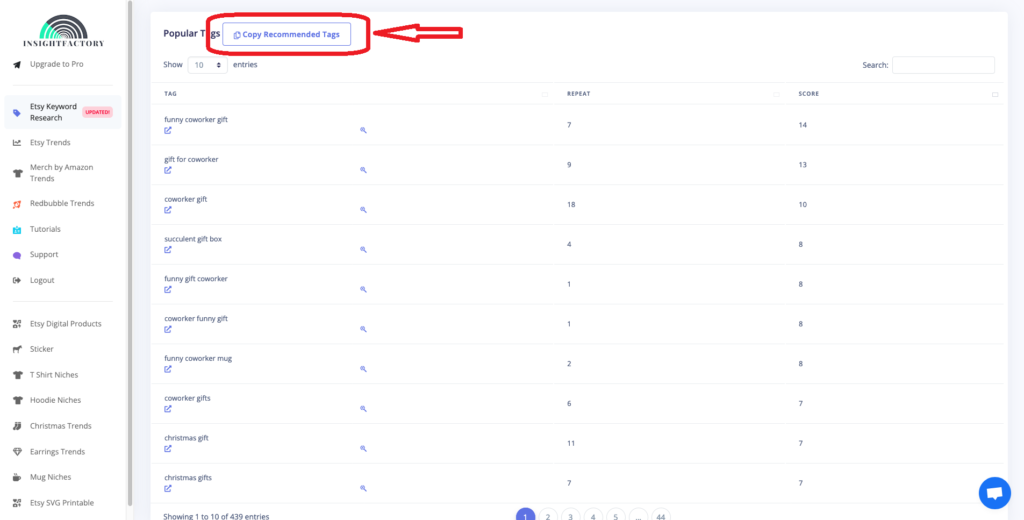 Click on "Copy Recommended Tags" to copy 13 Best tags automatically.
Recommended tags contain the 13 most frequent tags for your keyword. These tags get a high score based on Etsy SEO best practices.
Copy Tags Of A Listing
By clicking on the "Copy Tags" button, the listing tags will be copied.
You can copy and paste them on your Etsy listing.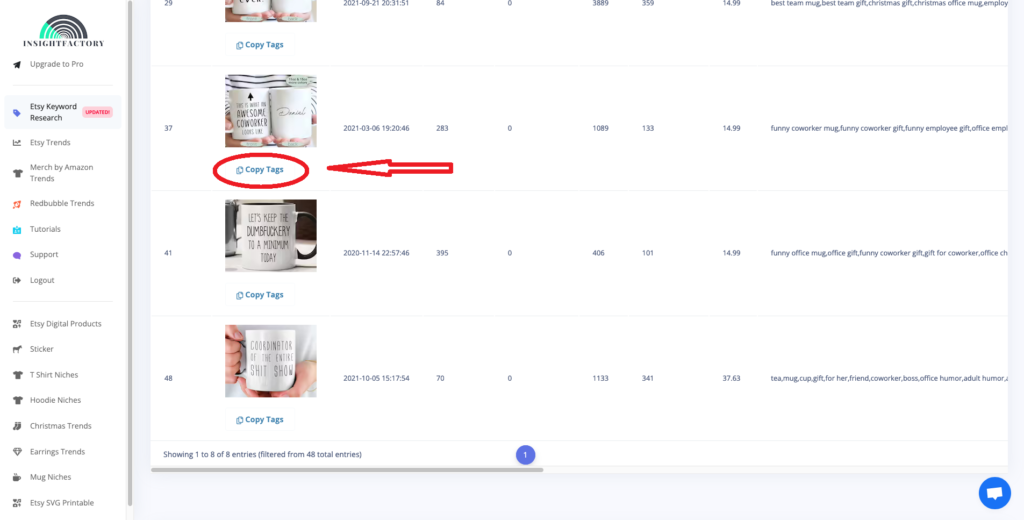 How to find what is popular products on Etsy right now


Video [1 Min]: Angela shows you how she finds popular products using Insightfactory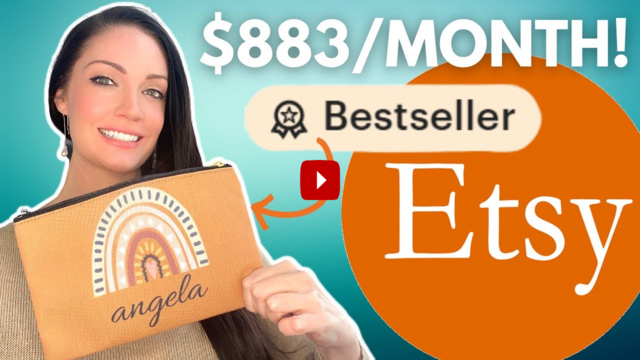 You can find popular products on Etsy in two different ways.
Check out Etsy popular products list.
This list updates everyday. You can browse thousands of popular and trending products in different categories. You can also use this page to find trending keywords on Etsy.
Search for your niche keyword on Etsy keyword research tool here.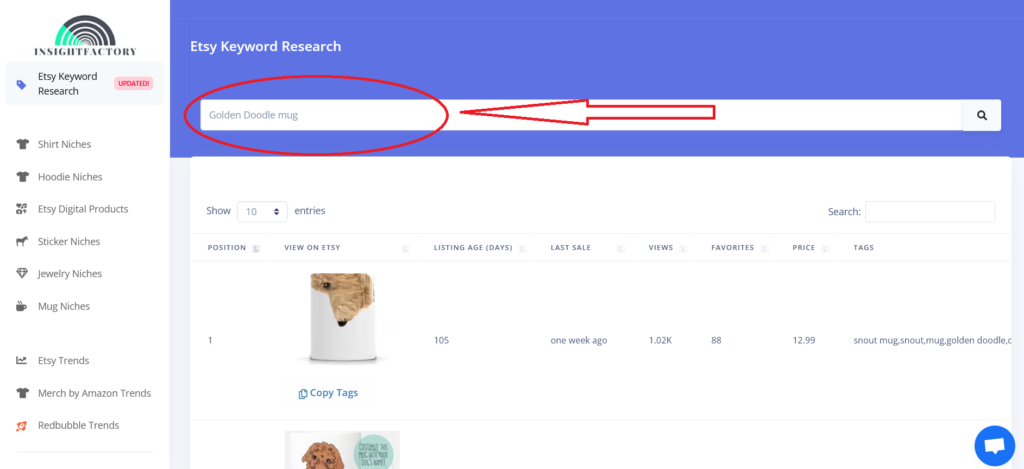 Insightfactory gets all the necessary information about your search results from Etsy in a couple of seconds. Our data is live. So you can follow the latest trends.


How to do product research with Insightfactory?
You can find popular products on Etsy and validate their profitability with the Insightfactory Method.
The insightfactory method is a secret method that top sellers use to validate a niche on Etsy in 30 minutes.
For identifying what sells on Etsy. Search for your keyword on the Keyword tool and ask yourself:
How old are the listings on the first page?
How often do they make a sale? (Is it something people are buying right now?)
Are there many listings without any sales on the search results?
Can you see a trend between the new listings?
You can answer these questions by accessing hidden information about listings on the search results.
Insightfactory Etsy Product Research Tool reveals this hidden information.
You should find the answer and score between 0 to 3 to the questions.
Here is the step-by-step process to answering these questions fast and reliably.
1) How Old Are The Listings On The First Page?
If most of the listings on the first page are older than six months, chances for your listing to get to the first page are low.
Focus on keywords with new listings on the first page.

Insightfactory default sort is search position. It shows listings exactly like Etsy.

Sort the search results by clicking on the "Listing Age" column.
The " Listing Age " column shows the number of days the listing is on Etsy.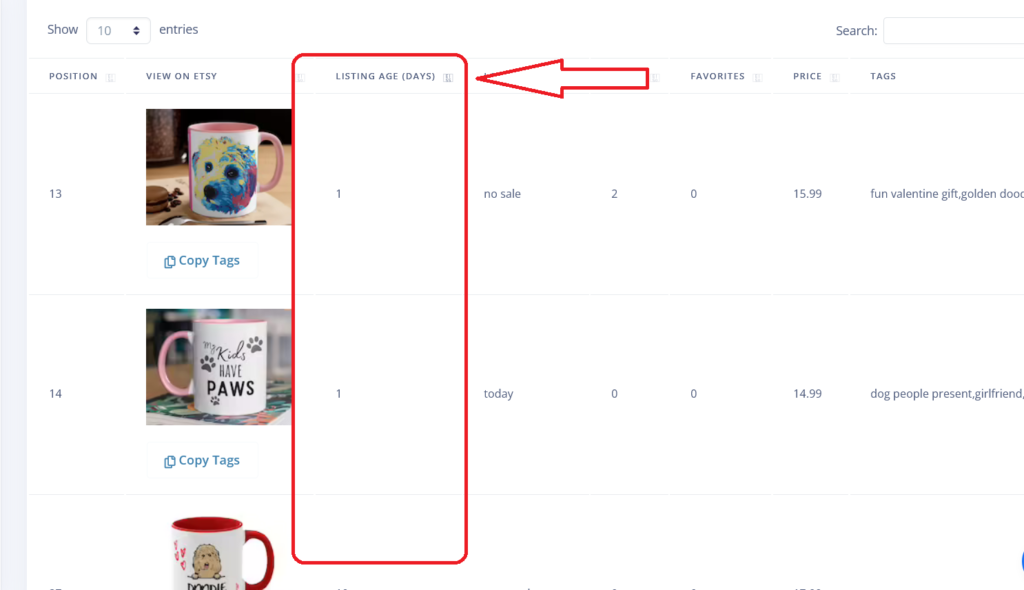 How Many New Listings Do You See?
Nothing = Move on ASAP.
A couple of new listings = Potential, Follow the next steps.
Most listings are new = It's a trending keyword!!

How Often do They Make A Sale?
You want to select an Etsy niche with regular sales.
The "Last Sale" column shows the number of days since someone bought the listing.
Today: Perfect
10 days: Not so good
How many listings sold something today?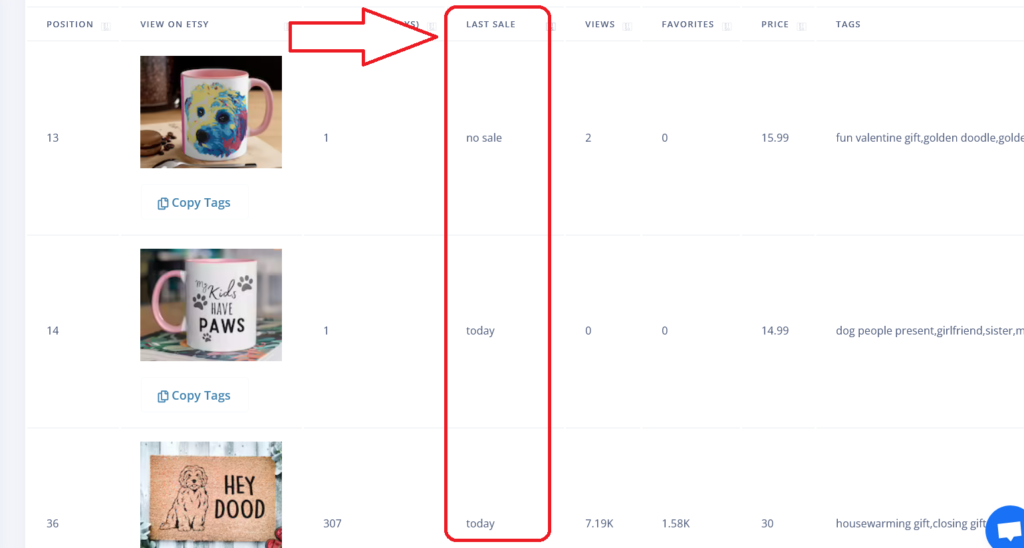 How to decide if it is a good niche?
If you see many listings with sales in the last 7 days: The keyword has great potential. People are searching for it right now.
Many listings with the last sale of more than 30 days: It's not an active keyword. No one is buying something right now.

Are There Many Listings Without Sales On The Search Results?

If you see lots of listing in the search result without a sale, it means this keyword is not good. Move on.
If only a few items have no sale, it means the keyword is low competition.

How Can I Validate My Listing Potential In A Week?
Many sellers rely on Etsy SEO for their traffic. Although SEO could bring you traffic for free, it takes time to rank on the first two pages. Which means you have to wait for a long time.
Etsy shows the best items on the first two pages. So you need to make sure your listing is one of the best.
For being one of the bests, you need to optimize your tags, price, product photos, and shipping setting.

Requirements:
$20 Etsy Ads Budget. Not sure if your listing is worth it? Invest more time on Etsy product research here.
10 minutes every day for the next week. You will use this time for listing optimization.

We suggest using Etsy Ads for the first couple of days to validate your listing potential fast. By using Etsy Ads you can validate:

Title and Tags:

The ad will show you what people are searching for right now.
You can access it under the Etsy Ads section on your shop manager.
If you don't get enough impressions after 3 days, then your title and tags are not good enough. Go to How to generate tags for my listings.
Do you have enough impressions? Super! Go to the next step.

Product Main Photo
Is it good enough to make people click on it?

Is it good enough to make people click on it?
If you have lots of impressions but a low click rate, (less than 0.5% is really bad), it means your product picture is not good enough.
Try with another one.
Price
If you get clicks but do not get sales, there is something wrong. And the first place you should look is the price.
Is It Something People Want?
If you get enough impressions and clicks but no sales, it means it is not something people want. Maybe the design is not good enough, or the price is not reasonable.
If the ad doesn't bring you sales in a week of optimization, turn it off. Turn off listing auto-renew too. And move-on. Do your product research again. And find what is selling on Etsy right now. Then repeat the process until you find the one.
The goal is to validate the listing as fast as possible. Etsy Ads gives you this opportunity to validate your listings fast.
For most new Etsy sellers, the first couple of listings is not good enough. So don't get disappointed. You are learning how to build a great shop one step at a time.