If you're a seller on Etsy, you already know how hard it is to find that perfect niche.
You've tried the other Etsy research tools out there. They don't work. You're tired of wasting time that could be spent making money.
Well, we get it now. We're sellers just like you—we understand what it's like to have our heart in something, only to have it crushed when we realize everything we've been doing this whole time is wrong.
That's why we created the Insightfactory product research tool. It's an online tool that makes finding your niche or keyword easier than ever before, and it's completely affordable—so much so that the savings might actually cover the price of admission for the next conference you attend, or fund your next experiment.
It's simple to use. Just enter a word or phrase into the search bar and let Insightfactory do its thing! In minutes, you'll see results that will blow your mind and change the way you look at doing business on Etsy.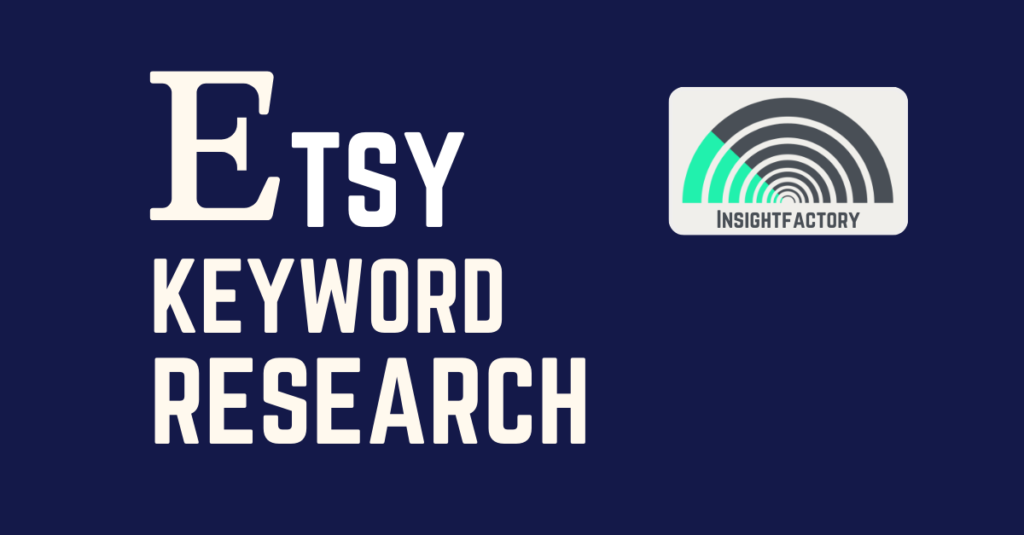 How to do market research on Etsy the easy way.
No more spending hours combing through data. No more wasting your time trying to figure out what's the best product to sell on Etsy. No more guessing what makes a product sell.
With Insightfactory, you can get all of the information you need to find the perfect product in just minutes. We'll tell you exactly what products are selling, how much they're selling for, and even how many competitors there are for that product. Stop wasting your time and start making money today!
Helium 10 Alternative for Etsy
If you want to start selling on Etsy and similar marketplaces, our tool, Insightfactory, is like Helium 10 but for Etsy. You can use our Etsy spy tool to:
Find niche markets that are selling well right now
Discover best-selling and trending Etsy products
Discover what shoppers like right now
To help you out, you'll find sales stats and page views in our niche recommendations that you can then use to inform what products and micro-niches are worth exploring.
Why Do You Need Helium 10 for Etsy Tool?
To succeed with eCommerce, you need the right products, market, and delivery services. Research tools like Insightfactory can help immensely for product research, which is a critical process in the eCommerce model.
You need to base your product listings on proven and data-backed research, which is hard to do without actionable metrics. Thus, a Helium 10 for Etsy tool can help with the data points such as niche monthly search volumes, sales, and the number of sellers for each category (hence, the competition).
With tools like Helium 10, you can easily access these data points for your Amazon business.
However, for Etsy, you need a Helium 10 alternative. Because you cannot conveniently access sales stats for Etsy using Helium 10.
Some sellers also tend to rely on Etsy's product rankings for their product research. Although it's free, this has a fundamental flaw since critical metrics such as the number of sales, sellers, competition, and niche views are not accessible for users on Etsy's rankings.
With our Etsy trends, you can easily sort the recommendations based on four different metrics:
Sub niche page views
Competition without ads
Niche potential
New favorites.
Another cool feature you can find on Insightfactory is Keyword Research. With this tool, you can find related product niches and tags to use in your product listings.
How to Use Helium 10 Alternative for Etsy?
To use our tool for product research, simply head over to Etsy Trends from your Insightfactory's dashboard. You will see a page with several tabs, mainly Print on Demand products, including Shirts, Downloadables, Mugs, etc. Navigate to the product type you are interested in and scroll down to explore thousands of product recommendations.
Below every sub-niche, there are two blue buttons: View on Etsy and Google Trends. If you choose one of the given niches, it's worth viewing Google Trends to see its growth and seasonality.
Our all-access upgrade gives you access to the entire product recommendations, meaning you can easily explore hundreds of results within our app as you scout for your best product idea. To upgrade, simply head over to our pricing page to choose a plan, starting from only $19.99.
How to Generate Tags and Titles for Your Etsy Listings
Use the Etsy Tag Extractor to generate the most popular tags used for top-selling Etsy listings to get more traffic and sales. Just search for the keyword you have that is describing your product. You'll see the result of relative listings on Etsy with al the details of sales and popularity. You can simply click copy tags under each listing and paste them into the Etsy tags box when creating your listings.
It is better to use the best-sellers tags that are selected based on their efficiency. Simply click copy recommended tags and then paste them into your listings.
You can also see the title of each listing. Click on show more stats and scroll right. You'll then have all the titles. you can copy any of them you think that are more similar to your item.
Keep in mind that before publishing your listing check all the keywords and phrases to see if they are relative to your listing or not.
Track top-selling Etsy shops
Find Etsy's most successful shops using the Etsy shop analysis tool. Type in the name of the shops you know or paste the shop's link and click search. You will receive all the details like all the titles and tags that are used for each listing of that shop. If you want to extract tags and titles click copy tags or copy the title and paste them into your listings. Check out the listings' active days, the last sales, favorites, and views. 
Follow the biggest sellers on Etsy from all over the world using this tool. Track Etsy's most successful shops in the US, UK, Canada, and Australia.
When you are searching to find a popular item to sell on Etsy you will encounter some shops that are selling really well. Follow them and analyze their shops to get better results for your own store.