Looking for the best niches for print on demand? The truth is starting a print-on-demand (POD) store is a lucrative business when you get the niche right.
Now the right print-on-demand niche looks different for everyone but relying on reliable data to find your niche is what professional sellers are doing. Luckily with this tool, you can find Print on Demand products that:
are selling well right now
have sizeable monthly search volume and
low competition
loved by buyers right now.
[Step by step] How to Find the Best Niches for Print on Demand
Step 0: Create a free Insightfactory account
In this tutorial, we use a free version of Insightfactory. You can create a free account and use it to find low-competition and profitable niches for print on demand.
Insightfactory monitors all major marketplaces for selling print-on-demand products like Etsy, Amazon, and Redbubble.
In the free version, you have access to Etsy trends, trending shirts for print on demand, AI description writer, competitor tracker, and many more.
Step 1: Explore POD niches to find a profitable niche.
You can find the complete list of popular print-on-demand niches here.

The T-shirt niche list has a complete list of the most popular niches trending right now.
You can explore them one by one to find a low-competition and high-in-demand product.
You can either focus on seasonal trends like Halloween and Christmas or evergreen niches like Family shirts, different jobs, couple matching shirts, etc.
If you are going to focus on seasonal trends, please bear in mind that it takes about a month to get ranked organically on Etsy and Redbubble.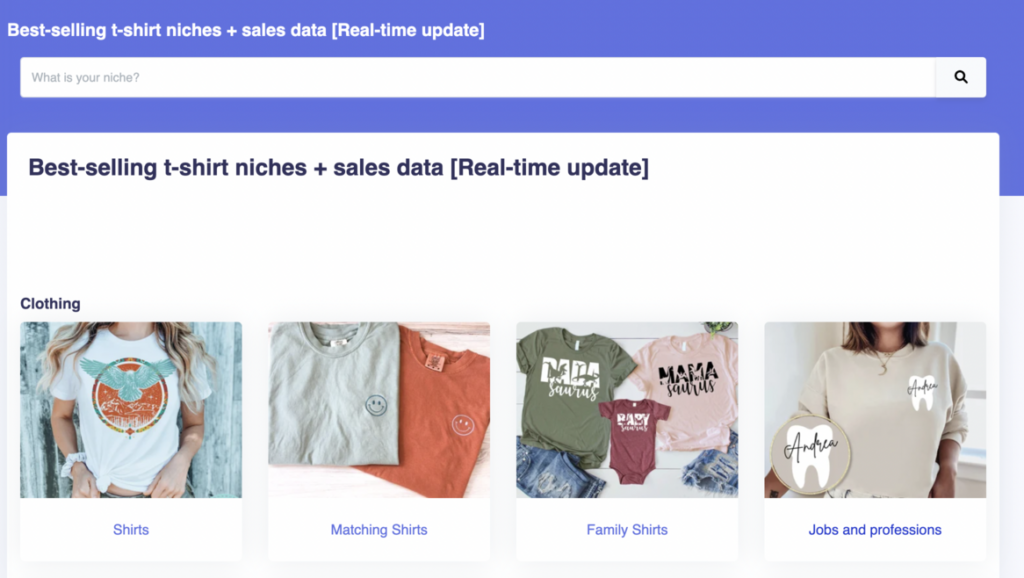 Step 2: Profitability Check: Take a look at the best-selling product for the niche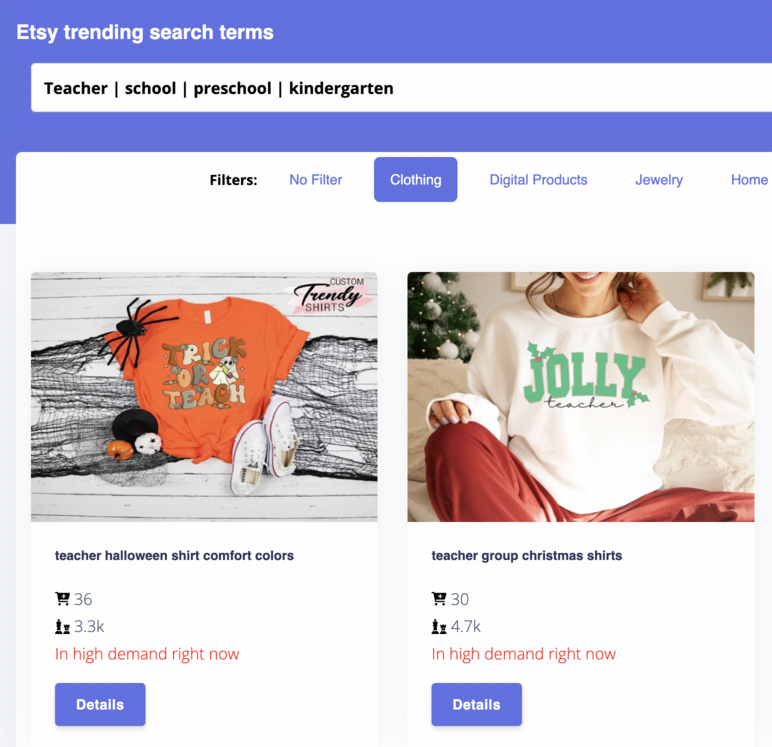 When you click on a niche, you will see the complete list of sub-niches. Sub-niches are keywords that people are searching for a specific kind of product in one niche. For example, Halloween is a niche, and the teacher's Halloween shirt is a sub-niche. You should always focus on sub-niches with low competition and high search volume. But how could you find out the competition and sales metrics?
Step 3: Focus on high-demand and low-competition niches for print on demand
When you click on the Details button in step 2, you will be taken to Insightfactory Keyword Research Tool.
On this page you can easily spot:
Keyword competition in different regions (United states, United kingdom, Germany, Australia, and Canada).
Sales signal. How many listings on the first page Have sales at least once during the past 7 days?
7-Day sales amount for any listing on the first page.
Tags (you can use these tags to get your listing to the top of the search results). Learn more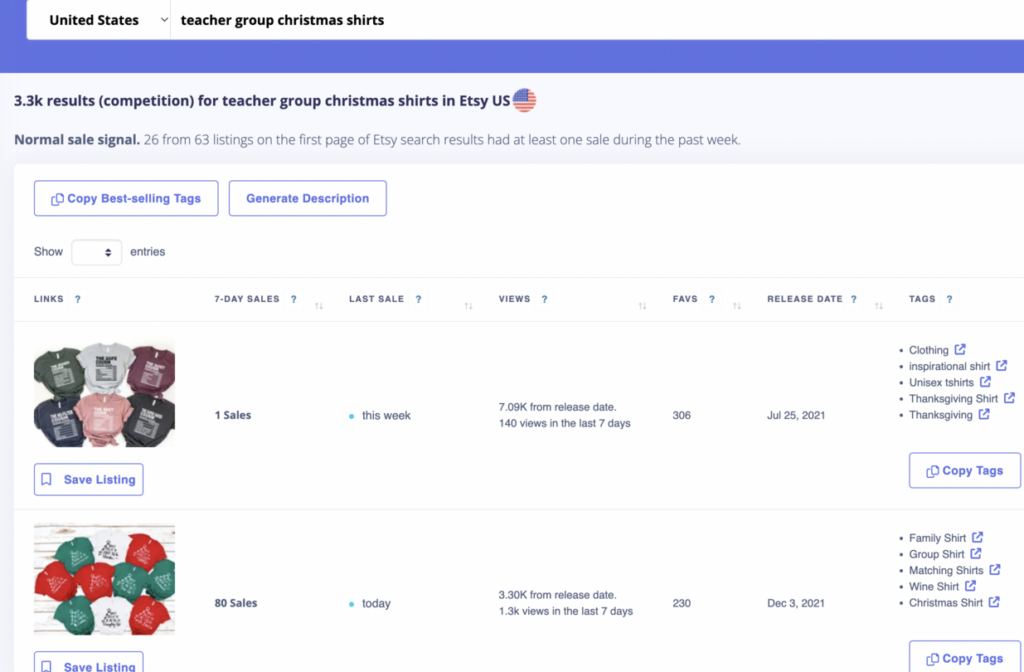 Step 4: Drive more traffic to your listings by choosing best-selling tags and titles
The Etsy Tag Generator tool helps you bring more traffic and sales for your shops. As you can see in step 3, there is a Copy best-selling tags button on top of the page. By clicking on this button, you get the best tags for a specific niche.
After that, you need to generate a description containing these keywords. By clicking on Generate description, you will get access to the AI written description that could persuade your shop customers to purchase.
It's better to copy best-selling tags that are selected based on their efficiency and sales potential.
Is Print On Demand Worth It?
On-demand printing, commonly referred to as Print on Demand, POD, is an eCommerce model where the product goes into printing only once an order has been confirmed. This way, you do not have to spend money upfront, and also it cuts off stock maintenance expenses.
Now, doing this by yourself as an individual is expensive and unsustainable. It is where Print on Demand services such as Printify, and Printful come in. They take care of the custom printing and delivery of the orders to the customer.
As a seller, your sole task is to find best-selling POD products, select a POD service for fulfillment, create your own designs, list them on your store and start marketing.
Best Niches for Print On Demand in 2023
Here are some of the best-selling niches for print-on-demand products that you should consider exploring further:
Birthday
Dogs
Halloween
Oversize
Thanksgiving
Christians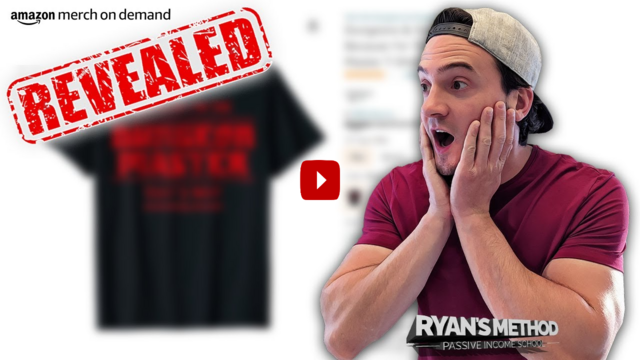 Where to Sell Your Print-on-Demand Products:
While there are several platforms for print-on-demand, the common ones are:
1: Shopify Print on Demand:
Using our Etsy trends tool, you can find best-selling POD products to sell on Shopify. Shopify makes selling a breeze as you can easily connect with POD service apps to fulfill your orders, so you won't have to lift a finger.
Some Print-on-Demand Companies for Shopify:
With Shopify Print on Demand, you can take advantage of Shopify's robust features including, analytics, customer profiles, and social selling.
2: Amazon print on demand
You can sell custom t-shirts and hoodies using Amazon Launch. After validating your POD niche using our Merch by Amazon Trends tool to find best-selling custom t-shirt designs.
You can then use these designs as your inspiration for what to sell in your store.
3: Print-on-Demand Services
You can also choose to sell your custom products with your specific service provider. Some POD services such as CustomCat, Printful, and Printify offer you storefronts that you can customize to your own liking. Although most of them only give you limited branding capabilities.