We list the daily trends on Redbubble and daily trends on Etsy. For being successful in print on demand, we suggest selecting a handful of niches for yourself and following trends in your niche.
why is that?
Save Time and Energy
When you have a niche, you can reuse your materials. Let's say you want to sell on Etsy. and you spend hours finding the best tags with an Etsy tag generator.
If you have several designs in one niche you can reuse these tags. and spend your time creating more designs instead of researching for Etsy tags. But by randomly going after t-shirt trends. you need to spend a lot of time on each work to come up with good tags.
Better chance of getting seen on the Redbubble and Etsy.
Imagine you make a design in a niche with 300 competition. By design only one t-shirt. you only have 1 out of 300 chances.
But by designing more items in one niche, you increase your chance of getting seen dramatically. why?


you have more space in the search result. with 10 designs you have a 10x more chance of getting noticed by the customer than having only one.
Redbubble and Etsy suggest your items to the customer: on the footer of the product page. Customers see a list of suggestions.
By focusing on a niche, you fill out this space yourself. And increase your chance of making a sale.
Maybe a customer buys multiple items from you. You have a shop around the gaming niche. a gamer could buy more than one t-shirt from you. when she founds your shop. but by randomly following trends, you lost this chance.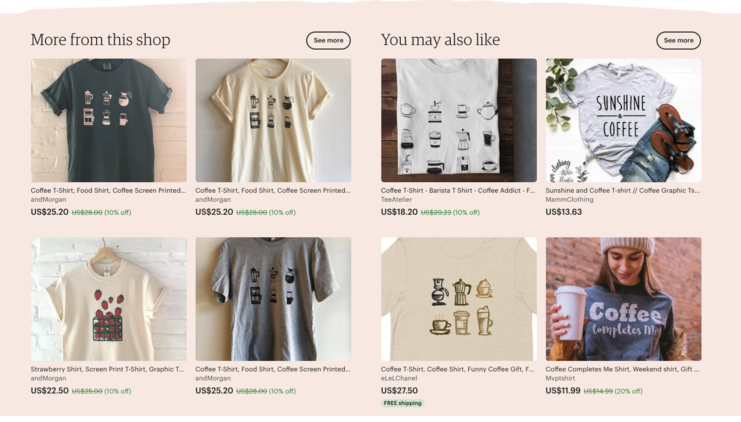 How to See Most Popular Keyword on Etsy?
Etsy trending tags and keywords is a tool that helps you discover the sales potential of any phrase or keywords you want. You can see hidden data for any listing you want such as the number of day that the listing is available as well as their last sales.
Generate best-selling tags and title for your listings using the Insightfactory tag extractor tool. Just copy and paste the tags and title of any listings you want or choose the recommended tags for better result.
How to use Redbubble trends to make sale?
Follow daily trends in your niches. By making a design based on a trend + in your niche. you have a far better chance than a seller who randomly makes designs.
You have a better chance to be on the top of search results. when you have multiple items related to a niche.
A customer could see your other designs and buy several items.
How to find a good niche in print on demand? read here.
How to choose the best tags for creating your listings? Click here.
Track Competitors on Etsy
Track the shops that are selling fast by searching their shop's name or pasting their store's link in the search bar on the Etsy shop analysis page. You'll discover all their best-selling listings with the number of days that they are on Etsy, favorites, views, tags, and titles. You can see when was the last time they sold an item from a listing.