At Insightfactory we analyze different marketplaces for finding trending in print on demand, in this post we have an ultimate niche list for Father's day in 2023.
Search volumes and competitions are updated live. This is the first time ever, that a tool offer the search volume that is livestream. No estimate or unaccurate 3rd party sources.
So let's jump into father's day 2023 niches for print on demand.
Father's day gets celebrated in more than 110 counties around the world. So check the date here.
Although the united states is one of the biggest markets for this day. Don't focus on our market. Father's day products have the potential of getting sales in multiple countries.

50+ Etsy shirt niches for father's day in 2023
Shirts are popular for this celebration, gift for dad or a matching shirt are trending this year more than ever.
All the data in this list is based on the last 10 days. So the data is live and hot🔥
1.superhero dad shirt (Etsy link)📈
With around 4000 results and 600 daily view (in the last 10 days) is a good niche with low competition and medium daily search.

Warning: Check trademarks before starting your design process. this niche is full of trademarked materials. Always double check the trademark and other applicable laws.
2. Funny dad shirts (Etsy Link)📉
One of the most saturated niches related to father's day. with 50k+ results and more than 2K daily searches.
So why did we add it to our niche list?
As an example of how niche research could help you. Let's move to niche 3.

3.funny step dad shirt (Etsy Link) 📈
Only 3000 competition and 200 daily searches.
It's an example of how niche finding could help you escape the competition. Instead of competing for funny dad shirts, you can create design and compete for funny stepdad shirts, and compete with significantly lower competition.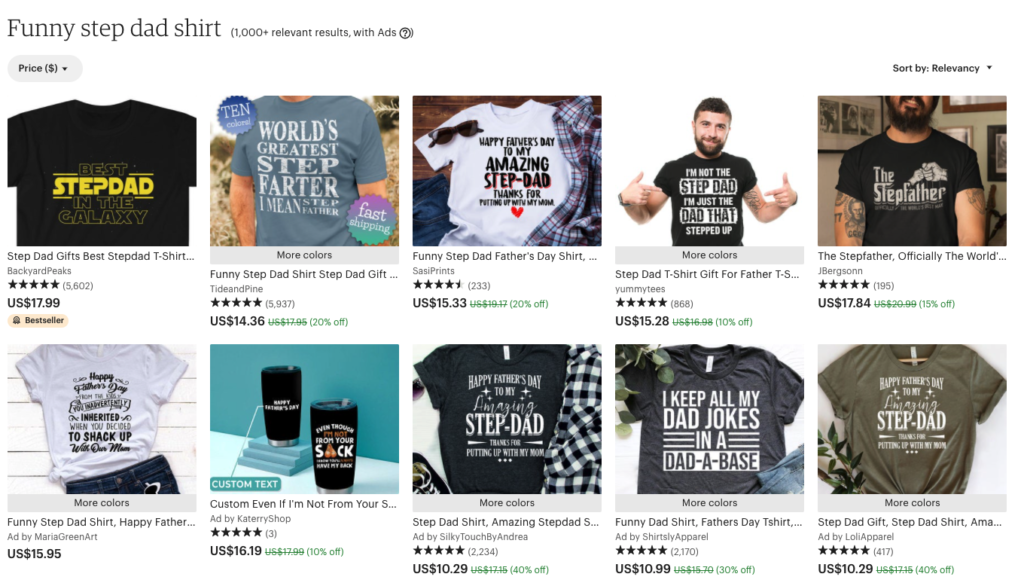 4.daddy and me shirts🔥
Competition:16.5K , daily search: 2k+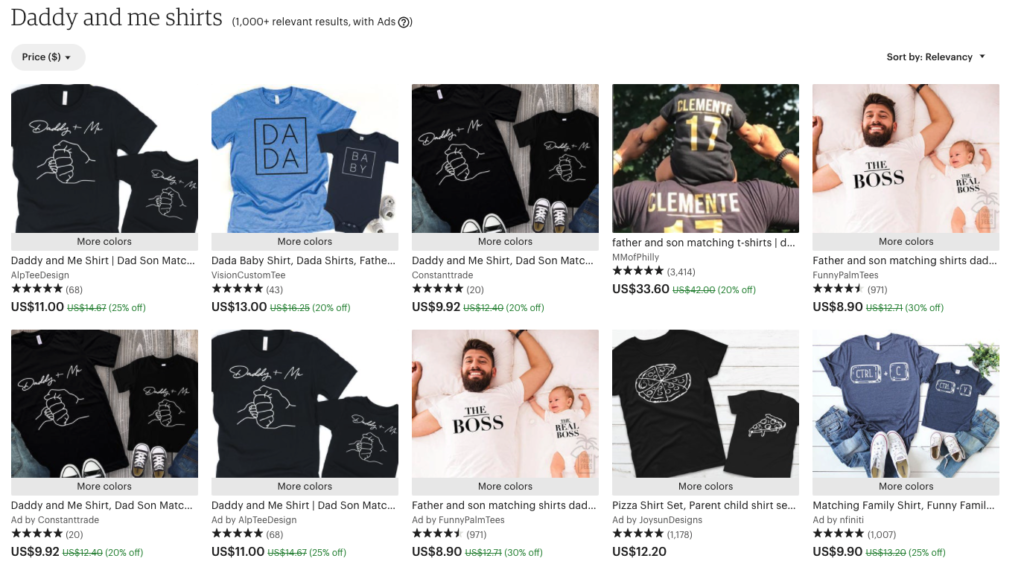 5.boy dad shirt📉
Competition: 20K, Daily searches: less than 500
Why did we added to our list? Because avoiding the bad niches is as important as finding a good niche.
In this niche there are more supplier than buyers.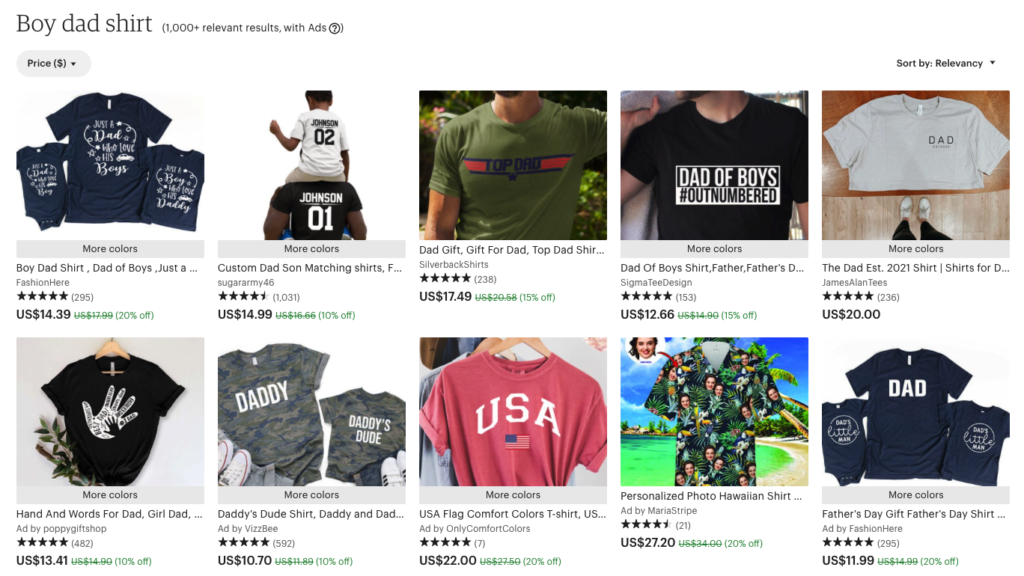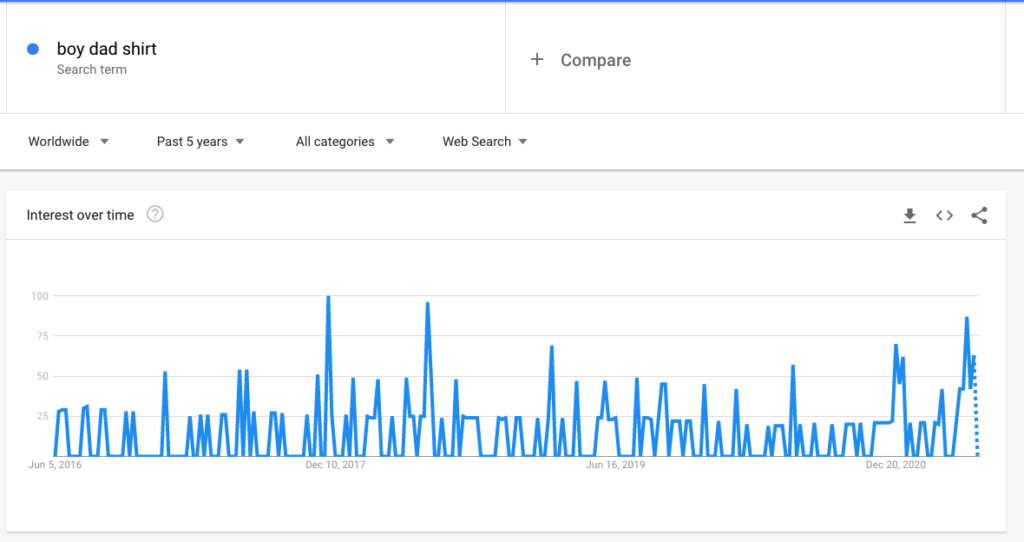 6.mom dad baby shirts (Etsy Link)🔥🔥
With around 20K competition and around 300 daily searches, it's an intresting niche, why? Because you don't sell only one shirt. you sell at least 3 items. mommy, daddy and at least one child.
The competition and search volume is important. But when a customer is looking for at least 3 items in one purchase. it's a gold mine. Sometimes customer bought a couple of sets to take pictures with different styles. The search volume is medium but it's fat, juicy and profitable.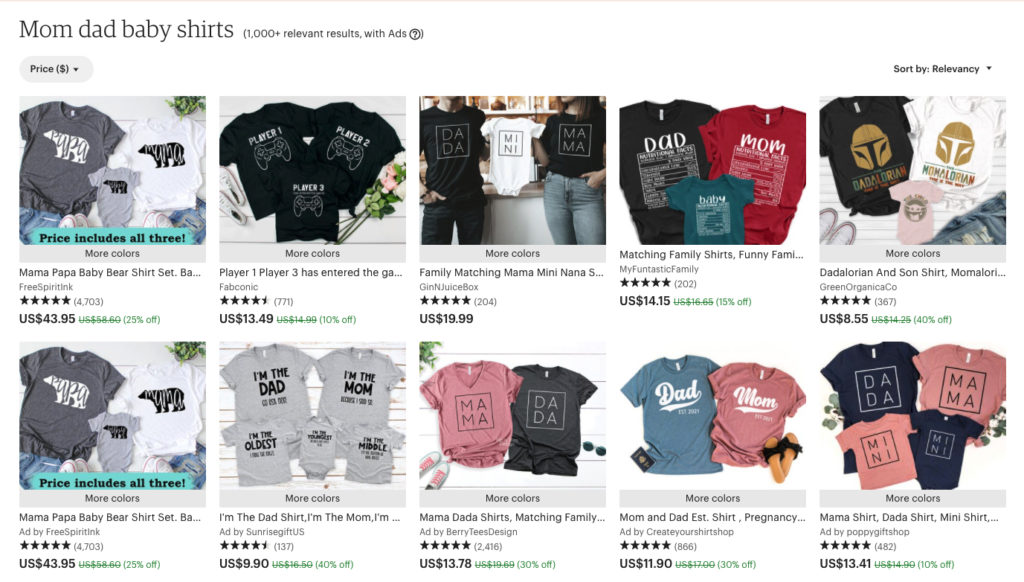 Get all 53 T-shirt niches for father's day 2023
Upgrade to Insightfactory Pro to access
The data is live [Last 10 Days]
Source of Data: Etsy Marketplace
Contains more than 50 t-shirt niches around father's day.
More than 25 niches with less than 10K competition
You'll gain the full access immediately
Access to all Insightfactory Pro features, t-shirt niches, mug niches, etc…