How to find great ideas for designing T-shirts for POD? Print-on-demand spy tool is a must-have for serious POD sellers.
T-shirt spy tools give you an idea of what is selling right now and could give you ideas of what you should sell as well.
One of the essential tools in a professional POD entrepreneur toolbox is to master how to spy on Etsy.
By mastering the art of spying on Etsy, you can create products and serve customers before competitors arrive.
In this article, we review 3 different sources of inspiration for finding POD trending items.
At the end of this post you will learn: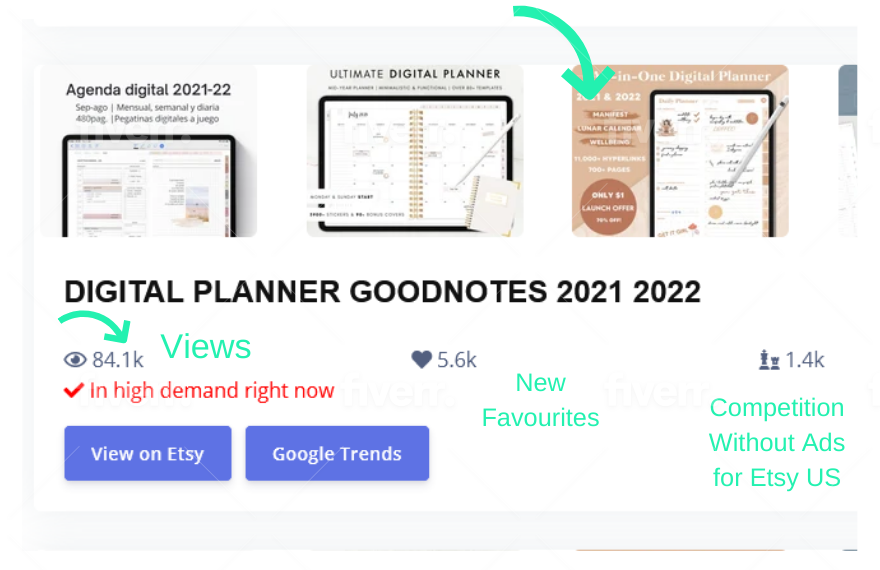 How to find ideas to sell T-shirts and POD products
The best way of finding ideas to sell t-shirt is to look at the market and see what is selling right now, then brainstorm based on the niche that is selling right now. and come up with your unique designs.
T-shirt spy tools help you find what is a best seller right now. It's important to follow these rules:
Check for copyright, trademark ,or any applicable laws:
For selling POD products in the U.S you can check for trademarks at: https://tmsearch.uspto.gov/
Create your designs:
Don't copy exact designs, it will lead to your shop getting shut down.
Focus on low competition and highly active niches.
POD SPY tool for selling t-shirt on Etsy:
Why Spy on Etsy? Etsy is the second largest marketplace for POD products, customers can order customized items on Etsy, and POD sellers get the most out of this opportunity, by offering matching shirts, customizable shirts, and other creative ideas.

You can explore POD trending items on Etsy with the Insightfactory Etsy Spy tool.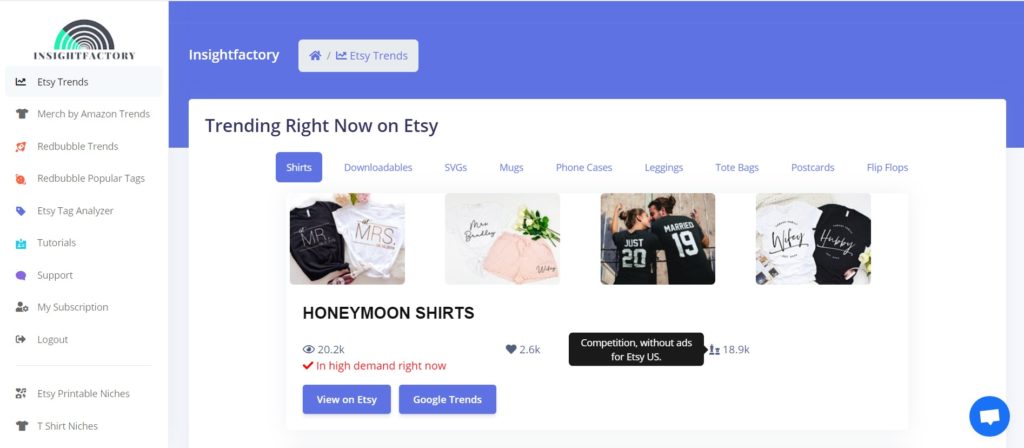 This tool extracts the most reliable data from Etsy and shows top sellers in each niche, new favorites in the last 30 days, competition, and views in the last 30 days.
This T-shirt spy tool has a free version that shows 100 niches randomly, and in the Pro version, you can spy on the low competition and high search volume POD t-shirts.
You can also spy on trending and best sellers in other print-on-demand products like mugs, hoodies, tote bags, and phone cases.
Insightfactory Etsy POD Spy Tool
Features:
T-shirt Spy Tool
Hoodies, mugs, phone cases
Offer a free version
Updates daily.
Access to Etsy trends.
Etsy best-selling products.
Last 30 days traffic, favorites, and sales data.
How to find best-selling products on Etsy
On the Etsy Spy tool, look for trademark-safe niches, with high search volume and low competition, you can see the 4 top sellers for each niche.

How to track trends on Etsy
You can track trends on Etsy by checking the Etsy Trends List here.
Etsy Trends List updates every day, so by checking the list you can track new trends as they get popular.
For each niche, you have a Google Trends button, that you check the historical data on Google Trends to double-check and verify that you found a real Etsy trend.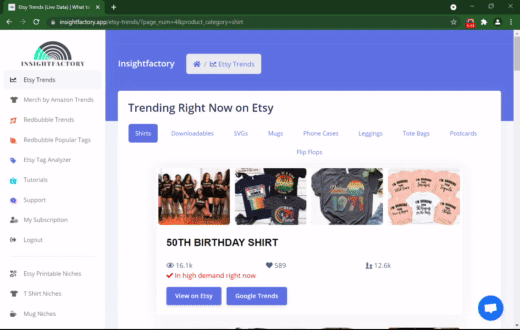 Get inspiration by spying on Amazon and Redbubble
Merch by Amazon POD Spy tool:
Merch by Amazon is the biggest marketplace for print-on-demand T-shirts. By looking at POD trending items on Amazon you can get a pretty good idea of what is selling right now.
Sometimes it's a good idea to Spy on best sellers on other platforms like Merch by Amazon or Redbubble.
It can give you an idea of what is selling on other POD marketplaces and then try it in your Etsy store.
Discover design ideas based on Redbubble Trends
Redbubble is another big player in print on demand, it's easy to use so many POD sellers start from Redbubble.
Although Redbubble trends are sometimes noisy, it's good to have a look at them from time to time.
Here is the list of Redbubble trends. the list updates every day.