Finding untapped and profitable T-Shirt niches has become harder and harder during the last couple of years, in this post we are going to explain how to use the Insightfactory niche research tool, to find a low competition niche in 2022.
Insightfactory T-Shirt niche research tool is usable for Redbubble, Etsy, and Merch by Amazon.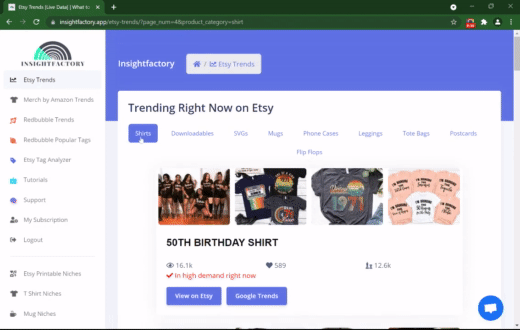 Transcript
hello everyone this is a guide fort-shirt niches tool of insightfactory the free version these are t-shirts that have been sold recently it updates every day so check this page out regularly to find niches before other sellers as you can see there are three columns trend, results or competition, and market activeness.
Market activeness is a score to measure the hotness of the niche if the market activeness is a hundred percent like this one it means every listing on the first page of the search result has sold at least one item during the last seven days you can simply sort this column out by click on market activeness from the lowest number if you click again you can sort it out from the highest number the other column is results or competition but since it's a free version you only have access to medium competitions more than 2 000. if you click here you can sort it out from the lowest competition which is 2000 for the free version and if you click again it will sort it out from the highest one. so if you have a shop that has less than 1,000 sales I would recommend that it's better to check out for the competitions less than 3,000 if you want to see the competitions less than 2,000 you need to upgrade to pro version in our pro version you have access to more than 1 500 niches but in the free version you only have access to 500 niches and these 1 500 niches are the ones that are that has less competition, so if you have a new shop make sure to check the premium version and of course it would be helpful for you we also have a search feature. You can simply type in a word and then search the trend or niche for it, for example, I type "nerd" and I find a science snare t-shirt for it. There is also this option of export. you can export it or save it for yourself. if you want to upgrade to the pro version you can upgrade from here. one last thing is that if you want to check more information about each niche you can simply click on this arrow and go to the next page thanks for watching everyone.
This article is also available in Vietnamese.
Etsy Keyword Research Tool to Discover The Most Popular Shirts in 2022
Use the Etsy keyword Research tool to find what actually sells on Etsy and discover top-selling niches on Etsy.
Look for the keyword you have in your mind and start you market research through the the Etsy keyword tool. You'll receive hidden details about listings by search a phrase, like the number of days that the listing is active on Etsy and the last time the listing sold an item. Also the tags and title that the listing has as well as favorites.
You can also copy and paste all the tags and title of any listings you want with one click.
Or you can simply click Copy Recommended Tags and paste them into your listing.
How to Track Etsy's Most Successful Shops?
If you are an Etsy seller, then you should really know the Etsy shop analysis tool.
The Etsy shop analysis tool helps you find all the details about top-selling Etsy shops and their best-selling listings.
Check out how long the top-sellers listings are on Etsy, How many favorites and views they get, what are the titles and tags for each listing, and when was the last time they sold an item. Copy the tags and titles of any listings you want.
This is a great tool for sellers who want to learn from others' success on Etsy. It's very helpful if you're looking for ideas on what to sell in your handmade goods store or print on demand business on Etsy.
Find top 100 Etsy jewelry sellers, Australian stores on Etsy, Etsy's most successful Canadian stores as well as the UK and the US top-selling Etsy stores.