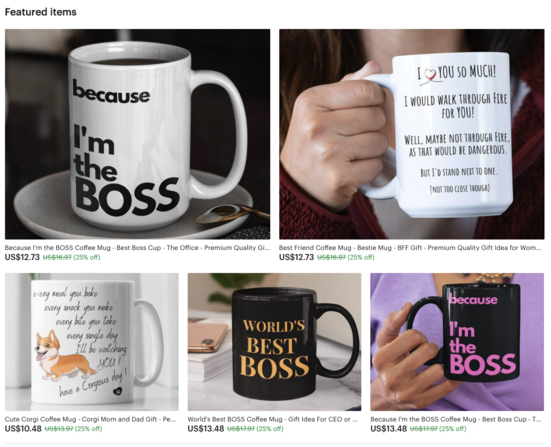 In this episode of Etsy Shop Critique by Insightfactory we are going to cover one of the competitive markets on Etsy.
Mug prints. We are going to do Etsy SEO together and do the keyword research and select tags that sell. Let's begin.
We are going to review an Etsy shop with gorgeous mugs.
you can check out their Etsy listings here and take a look.
Product Visual and Picture Quality
Product Pictures are great, you can see the products clearly, wonderful.
Etsy uses Image search techniques and it's important that the product would be visible completely in the picture. Both for the sake of customer experience and Etsy SEO algorithm.
Etsy SEO checkup
Let's dive in to review Etsy SEO.
I select one of the listings with the title "World's Best BOSS Coffee Mug – Gift Idea For CEO or A Family Head, Woman And Man – Premium Quality – 11oz Mug"
I think for keyword research we can analyze tags related to Boss, CEO, and coffee mugs. To find a less competitive niche for our coffee mug.
I start by looking up "Boss" in the Insightfactory Etsy Tag analyzer. The following keywords could be related to this item:
Result of Tag generator for this item:
boss appreciation gift
boss art
boss award
boss coffee mug
boss coffee
boss day gift women
boss day gift for men
boss female
boss gifts for women
boss gifts for men
boss going away gift
boss goodbye gift
boss gifts for men funny
boss is leaving
boss leaving gift
boss of the office
boss retirement gift
boss retirement gift for him
boss retirement gift for her
boss retirement gift man
I usually take a look at related niches to the items and write them down for myself and I use them for brainstorming for the next listings.
Based on keywords that people put in the Etsy search bar, We can say that there are some main niches around keyword boss

Boss Day
Boss gift for woman
Boss retirement gift / Boss Goodbye gift
Female Boss
Focus on a less competitive niche, boss coffee mug niche has more than 20K listing, However by focusing on a less competitive niche like "boss appreciation gift" you compete with only 3.5K other listings. or "boss leaving gift" has around 2.5K results.
Boss goodbye niche has low competition, you can create items for this specific niche. For a new Etsy shop like yours it's logical to focus on small niches with really low competition, and little by little by getting more Shop score, target more competitive keywords and niches on Etsy. it's unlikely for a new Etsy shop to rank in "Boss Day".
How to title your product on Etsy
Only enter keywords that people put on the Etsy search bar in the title. Any other information should be covered in the description box.
And start your title with the main keyword. Always have in mind that the beginning of the title is more critical in Etsy algorithm eyes. and use an Exact match for your main keyword.
Boss Appreciation Gift, boss coffee mug, retirement, goodbye gift….
You should repeat the process for Etsy keyword research for other keywords too.
Let's try extracting tags one more time for the keyword "CEO" the following list is related to your coffee mugs.
ceo gifts
ceo gifts for men
ceo gift women
ceo mug women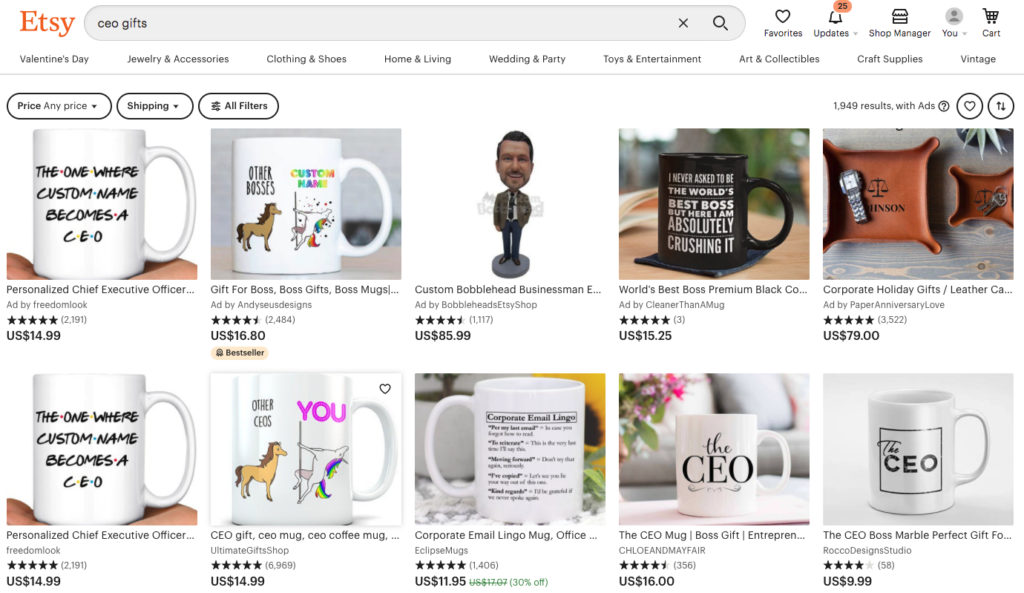 And they have much less competition than the word Boss, CEO Gifts only has 2K results. CEO Gift for men only has 500 results.
So you will have a much better chance to get your Etsy listing rank for this less competitive keyword.
For a shop like yours that has many mugs, One strategy would be to target each item to a specific keywords group.
For example, one for CEO and men, another for boos and woman.
Don't repeat your keywords on all of your listings.
Explore keywords in more detail and diversify your keywords on your different listings.
Etsy SEO could drive organic and free traffic to your Etsy listing, Follow this Etsy SEO guide to get seen on Etsy.