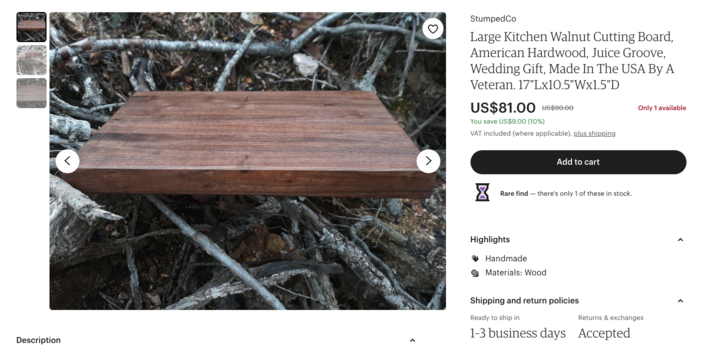 Let's start today's Etsy shop critique of this Etsy listing. High-quality walnut cutting board made in the USA.
you can check their listings here.
Advice number 1, Use a clear picture for your Etsy listing.
Work on your product pictures, It's not clear what are you selling, take a look at your competitors on Etsy, Take a clear photo of your product. You can remove the background of the photos with many free apps.
Photos are the first thing that your customer sees when they are looking for a product.
For Inspiration take a look at the top search results on the Etsy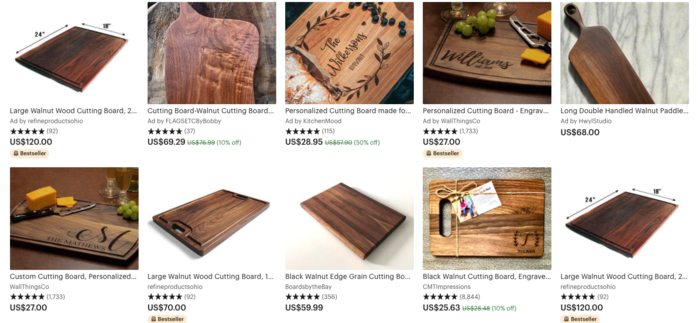 Review Etsy tags and title
Get the most out of your titles and tags
Right now your Title is "Large Kitchen Walnut Cutting Board, American Hardwood, Juice Groove, Wedding Gift, Made In The USA By A Veteran. 17″Lx10.5″Wx1.5″D"
How to title your product on Etsy
Rule1) you should put the most important keyword at the beginning of your Title, in your case, it's "Walnut Cutting Board" or if it's a handmade item "Walnut Cutting Board Handmade" put it at the beginning of the Title.
Rule2) Only put keywords that users search in the title, and put important information in the description. Etsy does not show the full 140 characters title in the search result. but it analyzes it for ranking. Remove everything that is not related to what the user enters in the Etsy search bar.
Generate tags that sells.
Only use keywords with search volume, Do the Keyword research.
I take a look at Insightfactory Etsy Tag Analyzer, I could find 210 related keywords to your listing
I handpicked the following ones:
cutting board and marble
cutting board arizona
cutting board butcher
cutting board bbq
cutting board craft
cutting board for wedding
cutting board for meat
cutting board for display
cutting board gifts
cutting board handmade
cutting board housewarming
cutting board housewarming gift
cutting board kitchen
cutting board large
cutting board meat
cutting board mineral oil
cutting board no handle
Rule4) Don't repeat yourself
Look at the keywords above, one of the common mistakes in Etsy Listings titles and tags are repeating the same word over and over again.
If I want to target the above keywords I create a title like this:
Handmade Walnut Cutting Board mineral oil, large,no handle, for meet, housewarming gift,for wedding.
I don't repeat cutting board over and over again.
you can read our complete guide for Etsy SEO for here.